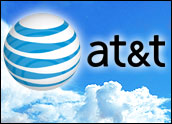 AT&T collected US$31.5 billion in revenue and delivered $3.59 billion — 60 cents per share — in profit, according to Thursday's second quarter earnings report. Profits were down 10 percent from last year's second quarter profit of $4 billion. Revenue rose 2.2 percent over last year. The performance was in line with forecasts.
Total wireless subscribers were up 1.1 million for the quarter, reaching 98.6 million. The growth was down from last year's second quarter subscriber growth of 1.56 million. Total wireless revenue, including equipment sales, rose 9.5 percent. Wireless service revenue grew 7.4 percent. Voice revenue fell 12 percent. Total churn — customers who cancel services — was 1.43 percent, up from last year's 1.29 percent.
AT&T didn't show any serious wounds from Verizon's entry into iPhone sales. AT&T sold more iPhones in the second quarter of 2011 than it did in the second quarter of 2010. iPhone churn was down, and nearly a quarter of iPhone additions were new subscribers.
The company reported it has increased planned capital expenditures for 2011 from $19 billion to $20 billion in anticipation of bolstering its network. It also reiterated its expectation that its acquisition of T-Mobile is set for early 2012.
The Verizon Factor
Since AT&T continues to add iPhone subscribers, it seem the company has dodged the bullet of Verizon competition. Verizon started selling iPhone subscriptions in February, so it was in competition with AT&T for the entire second quarter. Yet not much happened to rock AT&T's boat. Still, that could be a matter of timing.
"The migration of subscribers from one carrier to another is difficult for a user because of early termination fees. They can't move quickly," Chris Hazelton, research director for mobile and wireless at the 451 Group, told the E-Commerce Times. "The potential move is going to be gradual. There were a portion of iPhone users on AT&T who were waiting, and many who were out of contract have moved."
Many iPhone subscribers were motivated to switch to Verizon because of complaints about AT&T's service. AT&T has recently taken steps to close its service gap with Verizon, however.
"AT&T invested a lot in the network, especially to support iPhone users," noted Hazelton. "They've invested heavily over the past year in the hot spots like New York City and San Francisco — the large urban areas."
Possibly due to those improvements, the customers eager to switch from AT&T to Verizon appears to be a dwindling population, according to ChangeWave, the research arm of the 451 Group.
"We show that in December of 2010, 15 percent of AT&T iPhone subscribers said they were likely to switch to Verizon in the next 90 days," said Hazelton. "That has dropped to 13 percent in June of 2011. I attribute that to the investment AT&T has made in its network."
Android Takes a Bite
Android is a force to be reckoned with. Not only is it challenging the iPhone in the open market, it is challenging the iPhone within AT&T.
"AT&T's iPhone sales and subscriber base peaked with the iPhone 4 launch in Q3 2010. Since then, the iPhone's sales at AT&T have been dipping," Neil Shah, analyst for wireless devices strategies at Strategy Analytics, told the E-Commerce Times.
"In Q4 2010, the emergence of Android's share at AT&T stunted Apple's growth prospects slightly, and since the arrival of iPhone 4 at Verizon Wireless in Q1 2011, the overall sales contribution from iPhone at AT&T has been falling despite selling the iPhone 3GS at attractive price points."
AT&T plans to continue pursue strategies for easing pressure on its network, Shah noted.
"Employing data caps on these data-hungry smartphones has helped," he said. "So has upgrading the radio network to HSPA+ or LTE and improving the overall core network. That should provide some breathing space for AT&T."
T-Mobile Deal in the Wings
There has been considerable noise about AT&T's attempt to purchase T-Mobile. Those against the deal claim that it clearly violates market consolidation regulations.
"The results on the T-Mobile acquisition will be out early next year," said Shah.
"Both, 'for' and 'against' parties have provided strong defenses to support their cases. However, technically speaking, this horizontal merger easily surpasses the Department of Justice market concentration threshold indices, which makes the chances for approval theoretically bleak," he said. "Yet, practically anything is possible in Washington."