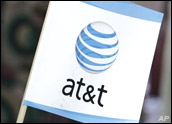 AT&T wireless customers gained a new way to get music Tuesday, when the company announced a new, over-the-air download service with eMusic.
Currently available only on the Samsung a717 and a727 as well as new versions of the Samsung Sync and the Nokia N75 handsets, the AT&T Mobile Music service lets customer preview and purchase music via their wireless devices from eMusic's catalog of 2.7 million songs from independent artists.
The price is five tracks a month for US$7.49, with additional bundles of five tracks available any time at the same rate. Songs are immediately sent to the user's handset, and a duplicate copy is available for download to the user's PC at no charge.
Music is not encoded with digital rights management (DRM) technology, and customers do not have to subscribe to the service in order to preview songs. However, AT&T "strongly recommends an unlimited data plan" for those who want to do so.
Indie Focus
"eMusic Mobile is not your typical over-the-air service," said Mark Collins, vice president of consumer data services for AT&T's wireless unit. "This service, which is as unique as the independent artists found in the eMusic catalog, differentiates itself from the competition through its ease of use, subscription pricing model and the ability to play these tracks in any MP3 player."
Whereas other wireless providers such as Sprint and Verizon also offer over-the-air music services, their music selection has tended to be largely mainstream.
"eMusic Mobile will expand the audience for mobile music beyond the youth market by offering an alternative to the mainstream pop hits that have so far dominated over-the-air music," said David Pakman, eMusic president and CEO. "AT&T is a terrific partner for this service, and we look forward to offering AT&T's more than 63.7 million subscribers access to a rich catalog that ranges from legends like Paul McCartney and Miles Davis to new independent stars such as Spoon and Arcade Fire."
A Simpler Solution
By choosing eMusic and its library of independent music, AT&T may have sidestepped many potential problems, David Chamberlain, principal analyst with In-Stat, told the E-Commerce Times.
"I've looked at the music industry for mobile phones, and it's not necessarily one I would encourage the carriers to get into," Chamberlain said. "When you're dealing with large, mainstream companies that have huge libraries of their own mainstream hit music, it can be expensive, there are lawyers everywhere, and it's a maze of terrible rights-management issues," he said.
"What's intriguing is that when you get into something that's focused on independent labels, my guess is that a lot of the real hassles and costs will be much lower," he explained. "The indies are not bringing in the RIAA (Recording Industry Association of America)."
Pricing Concerns
While AT&T says "many" more handsets will be added to the list of those that can subscribe to the service in the future, it came as a surprise to some that Apple's iPhone was not included.
"I applaud AT&T for using the best of breed available to deliver music, but I think some people are going to be confused as to what's available with what phone," Phil Leigh, senior analyst with Inside Digital Media, told the E-Commerce Times. "If I were an iPhone user, I would definitely want this."
Perhaps even more critical, though, is the pricing issue, Leigh said. "The price is just too high — they've priced it out of the market," he said. "After 15 years we're all excited by the information highway, but we don't want to have to pay a toll every five miles. It's just not going to happen," Leigh added.
Pricing aside, the move could be a wise one for AT&T.
A Profitable Proposition
"I think it's great," Chris Hazelton, senior analyst for mobile device technology and trends with IDC Research, told the E-Commerce Times. "Over-the-air usually is more expensive, but prices are coming down."
Over-the-air service is also very good for the carrier, Hazelton added, because the company not only earns revenue for the content, but it also increases mobile data usage, which in turn raises the company's average revenue per user. In addition, such services allow the company to appeal to a wider audience, he said.
People are increasingly aware of mobile music possibilities, Hazelton explained, and "the U.S. market has become very comfortable with sideloading," or the practice of loading music onto a handset manually by connecting it via cable to a PC.
Of course, that approach "goes around the carrier, so the carrier doesn't make any money, especially if they are subsidizing the handset," Hazelton said. Carriers are interested in offering phones that download over-the-air services because those services tend to require data plans, which are more expensive than voice plans.
Instant Gratification
Will the price put off too many users?
"There are always going to be complaints about pricing," Chamberlain said. "Anything greater than zero will always find pricing resistance — it's just human nature. What makes the difference in pricing is if the customer finds enough value in it."
In the end, Hazelton concluded, it will be a matter of consumers asking themselves, "Are you willing to pay for instant gratification?"