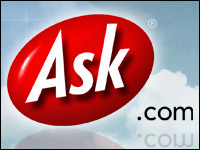 Search engine Ask.com has introduced a new feature that allows users to search for coupons and product discounts. The feature is embedded in the Ask.com front page, where visitors find an everyday-type picture — in today's case, a man holding a camera and wearing a watch; a couple holding a computer box, and so on. Next to the items, are hyperlinked "deal" tags consumers can click on to find bargains.
Clicking on the computer box, for instance, generates a list of deals that can be sorted by "all deals and coupons," "coupons only" or "local only." Presumably the picture changes in response to the bargains offered.
Ask.com did not return the E-Commerce Times' call requesting comment by this article's deadline.
For bargain hunters not interested in the featured products, there is also a link at the bottom of the page that offers the best deals this fall. A click on that link today takes searchers to a list of items on sale or otherwise discounted. The products range from a US$1 off printable coupon for Quiznos to a free seven-piece gift set at Macy's with any $21.50 Clinique purchase.
This page also offers a search box for users who want to find something specific — say, Nivea body wash. Using "Nivea" as a search term generates coupons including Nivea for Men Energy Hydro Gel (64 percent off) and Nivea Body A Touch Of Happiness Moisturizing Body Wash (61 percent), along with deals for other Nivea products.
Coupon Frenzy
For consumers eager to score a bargain, there is no shortage of online sites that purport to help them. Sites such as Deal Seeking Mom,Coupon Surfer and Coupon Sherpa — to name just a few — aggregate deals of the day for readers as printable in-store coupons, rebates, free stuff, online coupon codes, and so forth.
Deal Seeking Mom's October 5th newsletter for example, includes a link to Target store deals for the week. Another link sends users to an offer for a free DVD rental at a local Redbox.
A cursory scan through Coupon Surfer shows very little overlap from Deal Seeking Mom's bargains of the day — there is, for example, a $1 off coupon for Dippin Dots; there is also a 50 percent off coupon for an eyeglass purchase at JC Penney.
That back-of-the-envelope comparison is not an attempt to compare the sites in terms of comprehensiveness; rather, it illustrates a common complaint among coupon clippers: It is very hard tocentralize the bargains that are seemingly everywhere on the Internet.
To a certain extent, Ask.com is addressing this complaint with its new feature — as well as giving Web searchers a reason to use its site.
Most coupon sites get their coupons directly from the merchants via a data feed, Ariel Ozick, CEO of Wired Rhino, told the E-Commerce Times.
"These data feeds contain all the information, including the product, the deal, pictures and anything else the coupon site needs to post the deal," he said.
People usually get to these sites by deliberately searching for coupons for a specific company — for example, HP Coupons.
"What Ask.com is doing is different — they're integrating the deals into regular searches and telling customers how to find them," he explained. "More then that, Ask.com is actually actively crawling the Web looking for coupons, which is something that no other search engine has specifically done before. So on Ask.com, a search for 'HP Printer' would return HP printer coupons, even though the searcher wasn't specifically looking for them."
New Search Differentiator?
It may be that coupon search will become the next niche differentiator among search engines, all of which are developing products and features to keep their sites as sticky as possible.
"Google and Yahoo don't have anything similar to this," Nick Stamoulis, president and CEO of Brick Marketing, told the E-Commerce Times.
"It's a nice differentiator — and in a market where there isn't one particular dominant source or aggregator," he added.
If he were with Ask.com, Stamoulis continued, "I would do everything I can to promote this feature. Consumers might actually consider switching over for the coupon functionality."