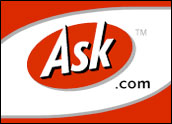 Ask.com is looking to women for answers. The 12-year-old search engine is reportedly narrowing its focus to appeal to married women, mostly in the South and Midwest, in its first major move under the direction of new CEO Jim Safka.
Ask.com is trimming 40 jobs, according to published reports, as its shifts emphasis from the broader model it featured since its launch.
The Oakland, Calif.-based company, a property of InterActiveCorp since 2005, has earned praise for numerous innovations over the years. Indeed, just in the last year, Ask.com grabbed kudos for its privacy-guarding AskEraser and search tool Ask3D.
Ask.com did not respond to requests for comment.
Fallen in Ratings
However, Ask hasn't been able to make gains on market leader Google and Yahoo, which has had struggles of its own.
"It's the final recognition that [they're] spending a lot of money taking on Google, which had introduced simplicity in the search engine market, and the already displaced Yahoo," Gene Alvarez, Gartner's vice president of e-commerce, told the E-Commerce Times. "The simplicity of Google, the addition of all the other things Google offers, when you bring all those together, Ask had to take on a giant with not enough tools in their portfolio. Now, it's a retreat back to where they came from."
At midday, IAC shares were trading at US$19.68 — near the bottom of their 52-week range of $19.50 and $39.06 — on the Nasdaq stock exchange.
Even retreating to a narrower market segment is no guarantee of success for Ask.com, Alvarez added."They're still going to have a challenge, because Google has become — in terms of recognition — a household name. So, it's not like working mothers don't know about Google, and Ask.com can capture them. It's still a highly competitive market — even within the segment — and it's going to remain competitive."
Google holds a market share of 58.4 percent, according to comScore Media Metrix's January ratings. Yahoo's 22.9 percent is a distant second, and Ask.com has a 4.3 percent share.
Ask.com is "throwing in half the towel if they're pursuing a gender strategy," Scott Cleland, president of Washington-based Precursor, told the E-Commerce Times. The strategy, in effect, cedes the general search category to the market leader.
Google's 'Network Effect'
Ask.com will still have to operate in the shadow of a "network effect" that Google generates, he noted. "It's the strong getting stronger. Google can add more material in their search database, so more people seek them out."
That dynamic feeds on itself, Cleland added. "One of the big myths is it's all the search algorithm. While that's important, it's one piece of what matters. The big piece of what matters is how comprehensive is your search and how many people you have searching, so you can learn from their behavior so you can further hone your algorithm.
"Google has 15 times more users and many more times that of publishers and advertisers that use them, so Google has the advantage of seeing the whole search marketplace and benefiting from all that intelligence," he continued.
Ask.com's strategy could work, but it will take a major commitment of resources, Greg Sterling, principal analyst for Sterling Market Intelligence, told the E-Commerce Times. "They've tried to go straight at Google and have been basically unsuccessful, but they've been very good at some of what they've done. They've been very innovative with products, like Ask3D. In many respects, they've led the industry in certain ways."
Playing to Its Strength
Now, Ask.com may be looking to play to its strength in a core female audience, he added. The question is: Can they pull it off?
Sterling has doubts. "I think they may launch some products, but this is the beginning of either a rapid or moderately fast decline. I could be wrong, certainly, but I don't think they're going to execute well on this female audience strategy. They're too concerned about making money at this point. I don't see them investing a lot of resources in the product to develop it all that much."
Some sort of change in strategy appeared inevitable, Forrester analyst Charlene Li told the E-Commerce Times. "I think that Ask.com saw the writing on the wall — that it had virtually no chance to succeed in the general search space. That said, they have picked a potentially lucrative space to focus on. Women make most of the spending decisions in a household, and all the more if they have children at home."