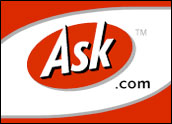 Search engine Ask.com unveiled a major overhaul Tuesday that includes a new user interface and a wider variety of content, including video, returned in regular search results.
The revamp is the latest in a series of moves undertaken by Ask as it bids to remain a player in the search space dominated by Google and Yahoo, and is aimed largely at making search a more visual experience for users.
With Ask3D, as the upgrade is known, users can choose from a dozen different "skins" toliven up the background of the search home page, and the overall design of the results page favors graphics over text.
Fewer Lists
The end result will be a more pleasurable search experience, said Ask CEO Jim Lanzone, with users spending less time "hunting and pecking" for information. For instance, users can preview Web sites returned in results, listening to music clips, viewing video previews and learning more about a site in the results.
"On average, it takes people four queries to find what they are searching for online. This is because search engines have forced people to wade through endless lists of links, and refine query after query, to find the right information," Lanzone said. Ask3D seeks to cut down that process by "delivering the right information, from the deepest range of content, all on one clean and simple page."
Shares of Ask.com parent IAC/InterActiveCorp were down modestly in late morning trading Tuesday to $34.79.
Changing Ways
Since it bought the search engine in early 2005 for $1.85 billion, IAC has set out to revamp the site. It shortened the site's name from Ask Jeeves to Ask, and later jettisoned the butler icon that had become the site's mascot and marketing face.
Earlier this year, it made a bid to become a local search leader, tying Ask in with other IAC properties, such as its ticket-selling and city-specific information sites.
Still, Ask.com remains a second-tier search player by most standards. Ask accounts for just over 5 percent of all U.S. searches, compared to 10 percent for Microsoft, 27 percent for Yahoo and nearly 50 percent for Google, according to recent data from comScore.
Still, Ask remains a player for several reasons, including the deep pockets of its parent company — and IAC Chairman Barry Diller — and because of the way Ask can be leveraged in conjunction with other IAC properties, which range from local sites such as Citysearch to real estate sites including Domania.com, dating site Match.com and e-commerce properties.
Morphing Results
The revamp tries to infuse more fun into the search process, something that at least in theory could lead to users spending more time searching through the site. Results pages all look different, Ask said, thanks to a process it calls "morph" in which results are presented based on what the search engine thinks a user is seeking. Morph also uses Ask's ExpertRank algorithm to determine which results to present, the company said.
In most cases, textual results are listed first, but based on the query, video — provided through a partnership with Blinkx — music or image results may feature prominently on the front page of results.
An Ask search for "Pirates of the Caribbean," for instance, returns a dozen or so text links, followed by a group of image thumbnails, news and video results and showtimes at movie theaters in the user's home area.
The results also offer one-click options for refining a search, using Ask's Zoom Search tool — which the company said is already the most popular feature on Ask.com. The tool allows a user to narrow or expand the original search or to search for related terms, such as actor Johnny Depp.
Ask's preview option is also beefed up, with users able to utilize the "binoculars" tool to get a larger preview of a Web page without clicking away from the search results. The previews also offer information such as how long a site will take to load and whether it will trigger pop-up windows.
Looks Matter
While there are innovations in the way results are compiled and presented, the visual difference is what users will most notice and that difference could be enough to lure more users to try the search site, Sterling Market Intelligence Principal Analyst Greg Sterling told the E-Commerce Times.
"Don't underestimate the power and lure of aesthetics," he said. "The fact that it's visually appealing makes it more fun to use."
Google has taken similar steps to combine search results, rather than relying on users to click on a vertical search tab, such as blogs or video, Sterling noted.
Ask's makeover highlights its advantage as a search alternative, search engine expert John Battelle told the E-Commerce Times.
"This is Ask doing what only a fourth place player can do: Throwing caution to the wind and betting on a new interface," Battelle said. "This new approach is a significant departure from ten plus years of search interface."
Leaders such as Google or Yahoo may be more reluctant to diverge from what Battelle called the "10 blue links" approach to search results because it is working for them. "Ask is trying a pretty evolved approach," he added.