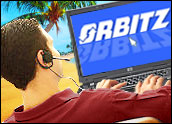 American Airlines this week withdrew its flight content from Orbitz Worldwide's websites, which include Orbitz.com, ebookers.com and CheapTickets.com. The companies are locked in a booking fee dispute.
They have clashed on this issue before, and it is also a brewing source of discontent between the airlines and Orbitz's competitors, such as Expedia. In a nutshell, the legacy carriers are facing competition from discount airlines, so they want the booking sites to reduce their commissions on ticket sales to improve their bottom lines.
They also would like to see the booking sites upgrade their systems so customers can upgrade and buy amenities more easily.
The American Airlines-Orbitz dispute has an addional element: As the industry continues to consolidate — American Airlines acquired US Airways to become the largest airline in the U.S. — the airlines are experimenting with how far they can push the third-party booking sites, which have been a perennial source of irritation.
Airline Economics
"By all appearances, American Airlines feels it is paying Orbitz too much for the bookings Orbitz generates for it, relative to the value of these bookings, which tend to be low fare or leisure travelers," Seth Kaplan, managing partner of Airline Weekly, told the E-Commerce Times.
It was not an oversight that Orbitz's corporate travel booking site was not subject to American Airlines' fare withdrawal, he added.
American "will surely lose some business, but it seems to have concluded this is marginal business, and the benefit of — hopefully, from its perspective — extracting long-term concessions from Orbitz is worth the risk," Kaplan said.
The economics of paying commissions just doesn't make sense to a reconstituted post-bankruptcy-era airline, said Andy Abramson, CEO of Comunicano.
Such purchase add-ons as preferred seating and extra baggage are treated separately from the base air fare and are profit centers for the airlines.
"They don't want to share those profits with online travel agencies," Abramson said.
"American Airlines is really looking to monetize and maximize the direct customer relationship vs. having to work through a middleman," he continued. "With CRM technology and the ability to maximize the real relationship and status of a traveler, the airline can offer the benefits without having to add another layer of interaction to ensure delivery."
Waiting for Orbitz to Cave
Given American Airlines' now massive heft, it is a safe bet that Orbitz eventually will cave, Kaplan said. After all, online travel agencies, or OTAs, promise to search a broad range of inventory. How can Orbitz possibly make that promise to its customers when it is missing the world's largest airline?
"This is different from similar disputes in the past, because post-merger airlines are much bigger — so this is not like if pre-merger US Airways had done this, and consumers in many cities might not have even noticed," he pointed out.
Competitors like Expedia may reap some benefits, but probably not for the long term.
"Expedia is somewhat bigger than Orbitz, so it does have a bit more leverage in the face-off of who needs whom more — the airline or the OTA," Kaplan noted. Because of its size, American doesn't have many concerns about competition any more, however, so Expedia could have difficulty standing firm.
American Airlines "is now a highly profitable company doing this from a position of strength. Certainly ultra-low-cost competitors like Spirit — which is one of the world's most profitable airlines — put some pressure on American and its legacy airline peers, but the business they take is mostly low-margin business that American doesn't mind conceding. "
The Consumer Decides
The best hope for the OTAs in this scenario is that consumers prove to be intractable in their preference for these booking sites. While some consumers are trained to go the airline's website, especially if they have a strong brand preference, such as with Southwest, most do tend to prefer the booking sites that compare fares in an unbiased manner.
If Orbitz, et al, refuse to make the fee concessions, the airlines would be just as happy to see consumers go directly to their own sites, Kaplan said. "It's cheaper because there is no commission to pay, and the airline is in more control of the booking."