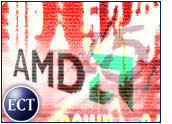 Advanced Micro Devices (NYSE: AMD) edged up 3/16 to 17 1/2 in early trading Tuesday, even after the chipmakerlowered expectations for fourth-quarter results because of a slowdown indemand for personal computers.
AMD said sales for the quarter will be "flat to nominally higher" than thethird quarter's US$1.21 billion. Net income will total 50 to 60 cents pershare, "depending on the relative strength of PC processor sales in theclosing weeks of the quarter," the company said.
Because of weak demand for consumer PCs in the United States, shipments ofprocessors will be "only nominally higher" than the 6.8 million shipped inthe third quarter, AMD said.
The company had previously thought fourth quarter sales would grow "in thehigh single-digit range" when compared to the third quarter, with processorshipments of 8 million to 9 million.
"While the slowdown in demand for PCs has been attributed variously toexcess channel inventory, a slowing economy, or buyer apathy, we believe itis temporary," said AMD chairman and chief executive officer W.J. SandersIII. "The PC in wired and wireless forms will continue to be the hub of thedigital universe."
The company said demand for its Athlon processors remains strong, as doesdemand for its flash memory products.
AMD joins a growing list of makers of computers and components to be hit bya slowdown in PC demand. Gateway, Apple and rival chipmaker Intel are amongcompanies that have recently warned of weaker-than-expected results for thecurrent quarter.