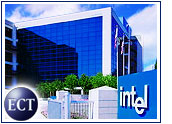 Sales of computer chips will remain strong for two more years, extending one of the longest and strongest runs for the highly cyclical industry, according to a new report from Gartner division Dataquest.
The report says the rising importance of chips in the next generation of hardware and software platforms that power the Internet will drive the semiconductor industry to healthy growth through 2002.
Gartner says worldwide chip sales will grow to $231.6 billion (US$) this year, an increase of 36.9 percent, and rise again next year by more than 27 percent. The research firm predicts a slowdown in 2002, with anticipated recovery by 2004.
Chip Woes
The report seems to fly in the face of recent news from the semiconductor industry. For instance, Intel (Nasdaq: INTC) issued an earnings warning on September 22nd that rattled the stock market. Also, several personal computer makers, including Dell and Apple, have warned that they do not expect to meet revenue and profit estimates for the current quarter, due to slower sales.
However, Joe Grenier, vice president of Dataquest's worldwide semiconductor group, said short-term sales slumps should not be confused with the end of the current boom cycle for chips. "Recent stories about Intel's earnings announcement have put a lot of misconceptions out into the market about the semiconductor industry," Grenier said. "Overall, the semiconductor industry is having a great year."
New Devices
Gartner argues that increased demand generated by new devices and technologies will more than make up for lost sales to PC makers, and drive the chip makers to new heights.
Fueling the current boom — and helping to prevent a crash in sales during 2003 — will be the flash memory chips used in cell phones, MP3 players and other portable devices. The report predicts flash memory will account for about $22 billion, or 7 percent of chip sales by 2003, up from 1 percent in 1998.
Growth Leads to Slowdown
Gartner analysts contend Intel's recent woes can be blamed on personal computer makers hoarding chips in advance of expected price increases due to chip shortages. Instead, demand for PCs has slowed, especially in Europe, leading to the current imbalance in the market.
At the same time, some specialty electronics makers say they may not be able to make enough products to meet demand during the upcoming holiday season due to a shortage of chips. Sony said it may run out of its PlayStation 3 games before year's end.
Intel Facing Pressure
The current boom cycle for chips has put increasing competitive pressure on once-dominant market leader Intel. Advanced Micro Devices (NYSE: AMD) has been eating away at Intel's share. AMD scored a victory over its competitor this summer by unveiling its fastest chip to date on the same day that Intel admitted it would recall some of its Pentium III chips.
Meanwhile, longtime Intel customer Sony recently announced it would use relative upstart Transmeta's energy-conserving Crusoe chip in its new Picture Book product. Transmeta has priced shares for its upcoming initial public offering at $11 to $13 per share, an IPO that could generate $144 million for the chip maker.