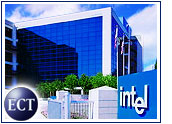 Intel Corp. (Nasdaq: INTC) reported third-quarter results Tuesday that beat analysts' lowered expectations, and said fourth-quarter revenue will grow at a modest rate.
The Santa Clara, California-based chipmaker said revenue rose 19 percent from a year earlier to $8.7 billion (US$), while income before acquisition-related costs advanced 52 percent to $2.9 billion, or 41 cents per share. Analysts had expected the company to earn 38 cents before items.
Net income rose 72 percent to $2.5 billion, or 36 cents per share.
Intel warned in September that revenue for the third quarter would fall between $8.5 billion and $8.7 billion — below previous projections. Prior to the announcement, analysts were expecting revenue of about $9 billion.
Stock Market Reacts
Intel shares recovered from an early plunge Wednesday, trading up $2 to finish the day at 38 3/16.
Reports said ABN Amro upgraded Intel to outperform from hold following the earnings news, though Credit Suisse First Boston was said to have cut Intel to buy from strong buy.
At Goldman Sachs, analyst Joe Moore raised his earnings estimate for the year to $1.69 per share from $1.66. Moore rates the stock a market outperformer.
Intel president and chief executive officer Craig R. Barrett said the quarter was "challenging," mainly because of weak demand from Europe. European operations have pressured results at a number of companies because of the weak euro and high energy costs.
Q4 Looks Brighter
"We anticipate record revenue in the fourth quarter, with growth across most of our product lines," Barrett said. "We are especially pleased with the rapid growth in our server business, our record flash business, and our networking silicon business, which surpassed our expectations in the third quarter."
According to Intel, fourth-quarter revenue is likely to be 4 to 8 percent above third-quarter revenue. Gross margin should be at about 63 percent, down from 64 percent in the third quarter because of start-up costs for a new product.
Expenses in the fourth quarter are likely to be 6 to 8 percent more than the $2.3 billion spent in the third quarter, in part because of seasonal spending on marketing programs.
Benchmark for PC Market
Intel is viewed as a barometer for the health of the personal computer market, as the company's chips are used in most of the world's desktop computers. While PC shipments are expected to post double-digit growth this year, most of the demand so far has come from Asia and Latin America. Some analysts say the U.S. and European markets are saturated.
A report released earlier this month from Gartner Group's Dataquest division predicted chip sales will remain strong for another two years, growing 36.9 percent this year and 27 percent the following year. A slowdown in 2002 will be followed by a pickup in business in 2004, the report said.
Intel said its shipments of microprocessors and average selling prices for the products in the third quarter were "approximately flat" from the second quarter, though chipset and motherboard shipments were higher.