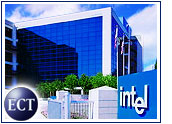 A warning by Intel Corp. (Nasdaq: INTC) on Thursday that its third quarter sales will be substantially lower than previously expected sent reverberations through the high-tech world, causing stock prices to tumble worldwide and strengthening fears the once-robust global personal computer industry is in decline.
Intel surprised industry experts by telling Wall Street it expects revenues for the period ending September 30th to range between $8.5 billion and $8.7 billion (US$), about 3 to 5 percent higher than second quarter revenues of $8.3 billion.
Industry analysts had been expecting revenues of $9 billion to $9.1 billion, or about 9 to 10 percent higher than the company's second quarter earnings.
Ripple Effect
The world's largest semiconductor chip maker said the smaller than expected numbers are due to weaker demand in Europe. The European economy has been hit by soaring gas prices and weakening currency.
Other analysts said the problems faced by Intel, universally viewed as a key indicator in the PC market, are a harbinger of bad times to come. Intel chips are used in most of the world's desktop computers and the company's fortunes affect a myriad of downstream industries in the hardware and software sectors.
PC shipments have been growing at a rate of between 15 to 20 percent annually since 1995, according to Morgan Stanley Dean Witter. Although PC sales are expected to grow by double digits again this year, analysts fear the core markets of Europe and the U.S. are saturated.
Most of the demand for PCs this year has come from Asia and Latin America.
The AMD Factor
Some analysts believe the company has been hit hard by rival Advanced Micro Devices (AMD).
"You can't discount AMD and what they've done in the marketplace," Gartner Group analyst Mark Margevicius told the E-Commerce Times. "AMD is getting a lot of good press, and Intel's growth rate has been nothing short of phenomenal. At some point, you just can't keep up that rate."
The PC industry has survived dire predictions in the past, having been bailed out in the mid-1990s by the explosive growth of the Internet, and in 1997 and 1998 by renewed consumer interest sparked by cheaper computer prices and Internet service provider (ISP) fees.
"You may see a slowdown but you won't see a dive only because PCs are the lowest common denominator in technology," Margevicius said.
Investors Dumping High-Tech Shares
The tech-heavy Nasdaq composite opened Friday morning down 213 points. Intel shares dropped more than 23 points and most other high-tech companies suffered as well, including Microsoft Corp., Cisco Systems and Dell Computer Corp. Stock prices plummeted throughout Asia and Europe, with semiconductor shares being the hardest hit, as investors heeded Intel's warning by dumping high-tech shares.
In Tokyo, Asia's largest market, high-tech shares led a decline in the Nikkei Stock Average, which fell 3.02 percent to 492.80 points. In Taiwan, the Weighted Price Index fell 308.81 points. The Korean Composite Stock Price Index in Seoul plunged 46.19 points.
In London, the Financial Times-Stock Exchange was down 1.3 percent in late morning trading Friday. Stock exchanges in Paris, Frankfurt and Milan were all down.