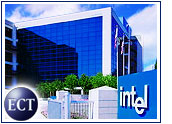 Despite turbulence in the computer chip sector on the whole, Advanced Micro Devices, Inc. (NYSE: AMD), the number-two manufacturer behind Intel Corp. (Nasdaq: INTC), reported better-than-expected earnings late Wednesday.
Sunnyvale, California-based AMD said it earned $219 million (US$) or 64 cents per share for the third quarter, beating Wall Street estimates of 62 cents per share. For the quarter, revenue rose 82 percent from the year before to $1.21 billion.
Good News Amid Warnings
The strong earnings and sales numbers came just two weeks after Intel warned that its earnings for the same period would be below analyst expectations due to weaker sales, especially in Europe. That announcement rattled Wall Street, triggering a high-tech share sell-off that was repeated when similar warnings came from Dell and Apple.
However, the Intel warning was brushed off by many analysts as a temporary lull, caused as much by shortages of certain kinds of chips as by reduced demand. In fact, in a report released last week, Gartner's Dataquest division said chip sales should remain strong for the next two years before overproduction begins to drive prices down.
Cell Phones Drive Demand
AMD said strong demand for flash memory chips for gaming devices and other non-personal computer applications helped drive revenue, with flash sales up 104 percent from the year before. Chief Executive Officer W.J. Sanders III said chip demand is strong for mobile phones, set-top boxes and Internet infrastructure.
Still, PC sales continue to make up the bulk of AMD's business, a fact that worries some analysts, with signs pointing to a slowdown in computer sales. Sanders said AMD sold more than 3.6 million of its high-performance Athlon chips and low-cost Duron chips during the quarter.
Overall, PC chip sales were up 114 percent from the third quarter of 1999.
AMD's continued growth is likely to be undermined by a shortage of chips and limits on production capacity. Sanders said the firm will be unable to meet demand for its Athlon chip in the fourth quarter.
"The limiting factor will be our production capacity," said Sanders, predicting that AMD will sell as many as 28 million chips this year, besting the company's own estimates of 25 million units.
Chip Shortage Hits Hard
For the firm's low-end Duron chips, the fourth quarter will also bring supply issues. A shortage of compatible chips usually sold in a set with Duron will force the company to slow sales rather than drop prices for the chip by itself.
"Rather than taking those prices down too far, there will be a limit on how many Durons we can sell," Sanders said during a conference call with analysts.
Distant Second
Despite AMD's recent gains, Intel remains the dominant maker of microprocessors, selling an estimated $8.5 billion worth of products during the same three month period that saw AMD generate $1.2 billion in sales. AMD said it now claims 17.5 percent of the chip market share, compared to 16 percent during the second quarter.
Analysts note that while Intel's warning rocked the markets, AMD is less likely to affect the overall trading of technology stocks. Shares of AMD were up 1/2 to 24 in morning trading Thursday, helping to lift the Nasdaq to early gains.
Intel is slated to report earnings next Tuesday.