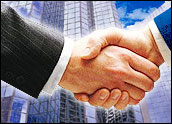 The lawsuit IBM filed against Amazon for multiple patent violations has ended amicably, with Amazon agreeing to pay undisclosed license fees.
The legal battle over the disputed technologies began with much fanfare last fall, when IBM filed a complaint alleging that Amazon had infringed five of its patents related to e-commerce.
However, the companies had already engaged in years of wrangling. Since 2002, IBM had been attempting to convince Amazon to pay a licensing fee to use processes related to electronic catalogs; to data storage in an interactive network; and to services such as Amazon's personalized "If you bought this, you might like that" recommendations.
Amazon promptly countersued IBM — to the relief of the e-commerce industry. The possibility that some fundamental, business process-oriented technologies might be subject to licensing caused online retailers large and small to shudder.
Pandora's Box
With the suit now settled, e-commerce vendors are more unsettled than ever over the questions it raised.
"In my mind, this agreement has opened a Pandora's Box," said Thomas Harpointner, CEO of AIS Media, which designs and services e-commerce Web sites.
"The claims are very broad and could set a precedent for IBM to collect royalties from tens of thousands of other, smaller retailers," he told the E-Commerce Times.
Indeed, in its countersuit against IBM, one of Amazon's arguments was that IBM's patent claims were so broad as to be ridiculous.
Good for Amazon
Still, the move by Amazon to settle the case was a no brainer, said Peter Vogel, a partner with Gardere Wynne Sewell.
"It will give them more technology to use — without worry — to make their Web site more competitive," he told the E-Commerce Times.
When it comes to fights with companies like IBM, Vogel pointed out, "they never roll over and just die. In this case, I think Amazon realized it needed to work something out so it wouldn't have to keep spending resources."
Amazon was facing an uphill battle, agreed Randy Lipsitz, Intellectual Property partner at Kramer Levin Naftalis & Frankel.
"Trying to knock out five patents (the number IBM alleged Amazon had infringed) is not an easy thing to do," he told the E-Commerce Times.
"Given those odds — and given the fact that the average patent lawsuit can run between (US)$3 million to $5 million," Lipsitz said, "I think Amazon sent the case to their accountants who came back and said it may not be such a bad move after all to buy some certainty and peace with a license."
New Uncertainty
Indeed, patent practices and case law have been infused with uncertainty of late. Among other court decisions, a couple of recent Supreme Court rulings have challenged how patents are awarded and what is patentable in the first place.
"The Supreme Court has shown it is willing to review a number of circuit decisions," Bart Showalter, department chair of the intellectual property practice group at Baker Botts, told the E-Commerce Times.
Ever since Microsoft v. AT&T came to trial, there has been talk of revisiting the scope of laws concerning the patentability of software, he added.
The Microsoft v. AT&T decision favored the software industry — but the possibility of being vulnerable to global damages left it on edge.
"It is all part of a sense of continued uncertainty in patent law and practice," he said. "No one is quite sure anymore how a jury [will] treat a patent trial — or whether Congress plans to change our view of patentability of software in the United States."
New Era
It may be that recent events have given Harpointner — who, as a Web designer, worried the IBM-Amazon case was hitting too close to home — more of a reprieve than he realizes. The new uncertainty also works to IBM's disadvantage.
"After KSR International v. Teleflex (a groundbreaking case decided at the end of April, in which the Supreme Court made it more difficult to obtain patents for combining existing technologies), it is hard to guess what thought processes are guiding patent office operations, Vogel said.
"It is going to take a while for all parties concerned to absorb the decision and ultimately parse what the court meant by it."