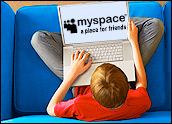 Social networking powerhouse MySpace and Photobucket, a photo-sharing site, have come to terms on a possible buyout deal, according to published reports.
A preliminary deal has been reached, and the acquisition of Photobucket will cost MySpace up to US$250 million, Reuters reported Monday, citing unnamed sources familiar with the negotiations.
Photobucket and MySpace, owned by News Corp., have so far kept mum about the deal, failing to respond to interview requests from journalists. The two companies reportedly have tackled the most salient points of the deal and now only need to come to a consensus on a few remaining details.
Everyone's a Winner?
Photobucket is by far the No. 1 photo-sharing site on the Internet with some 41 million users and 80,000 new users registering every day, according to the site. Similar to older established sites such as Kodak Galley, Shutterfly and Yahoo's Flickr, Photobucket serves as a repository for its members' personal photos, graphics and videos.
The four-year-old startup's success over its competitors is largely attributed to the decision to position itself as a "linking" service to sites such as MySpace, through which users can post their pictures, videos and slideshows on their MySpace page. Photobucket's market share was eight times that of its nearest competitor in September 2006, according to Hitwise, a Web site traffic research firm.
"Photobucket succeeded in gaining a large market quickly, while Kodak Gallery and others have not seen the same growth because it focused on giving a young audience a cool way to connect rather than also helping older people preserve precious memories," James McQuivey, an analyst at Forrester Research, told the E-Commerce Times. "That leads to rapid growth. It also leads to large numbers of inactive members, which will be Photobucket's challenge, but it's a better problem to have than not having many users to begin with."
As recently as one year ago, the site boasted a paltry 14 million members. Photobucket's cache of content has grown to nearly 2.8 billion images, many of which are linked to sites including Facebook, Bebo, Friendster, eBay, Craigslist, Blogger and Xanga, according to Photobucket. However, its somewhat symbiotic relationship with MySpace has proven the most profitable. Fifty-seven percent of Photobucket's traffic came directly from MySpace in September 2006, Hitwise reported. Photobucket ranks No. 3 among destinations for MySpace users, with Google and Yahoo holding the top two spots.
Not All Roses and Sunshine
The relationship hit a bump in April, when MySpace blocked users from posting slide shows and videos stored on Photobucket and cut off traffic headed to the site. The photo-sharing site violated the social network's terms of service by inserting ads within the image files, MySpace said. Photobucket responded by claiming that MySpace "by severely restricting this freedom … is showing that it considers you as a commodity which it can treat as it sees fit."
Two weeks of negotiations later, however, the two Internet companies had settled their issues. "We've established open lines of communication and procedures with MySpace to prevent a sudden block of Photobucket content in the future," Photobucket stated.
Reality in Pricing
Google beat out News Corp.'s Rupert Murdoch last October when it paid $1.65 billion for YouTube. Murdoch's desire to acquire the Web's No. 1 video site was widely known.
If the reported deal is in fact struck, Murdoch gets his money's worth as well as an additional 9 million users, assuming that half of Photobucket's 18 million monthly visitors already belong to MySpace, McQuivey said. For the industry as a whole, it means a return to a more realistic pricing model.
"Finally, a purchase price in the social computing space that makes sense," McQuivey explained. "In a Photobucket acquisition, MySpace would be paying for technology, yes, but also for users — even if half of the users Photobucket has are already MySpace users, it means they're spending $10 a person for registered users and closer to $30 for active users.
"That's easily money that can be made back in advertising dollars by showing those people ads for the next few years," he added. "We don't need to count on some future business model like Google did when it bet $1.65 billion on YouTube."
The industry, according to McQuivey, can expect that more social computing deals will be made, "but more of them priced like this, based on the revenue value of the users."