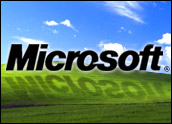 Microsoft CEO Steve Ballmer extolled the benefits of cloud computing and spoke about the software giant's increasing commitment to it in a speech at the University of Washington on Thursday.
Microsoft has clearly been moving toward the cloud over recent years. All of its products, including Windows, Office and Xbox, are in some way connected to it.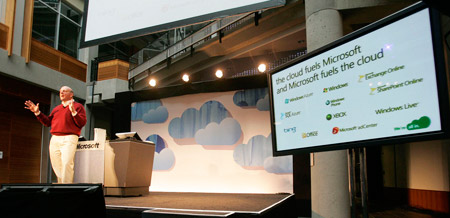 Microsoft CEO Steve Ballmer speaks to University of Washington students about cloud computing.
However, reading between the lines of Ballmer's speech suggests the company may be ramping up for a major new cloud-based initiative.
For instance, Ballmer noted that while 70 percent of Microsoft employees are working on cloud-related projects at the moment, that number will increase to 90 percent over the next 12 months.
"For the cloud, we're all in," he said. "We are betting our company on it."
Azure Rollout
Microsoft's intense focus on the cloud is understandable, Michael Cherry, an analyst at Directions on Microsoft, told the E-Commerce Times.
"For example, it is in the process of rolling out Azure," he noted. "I would say they are trying to keep the momentum and industry interest going with that, such as with Ballmer's speech."
At the beginning of February, the Azure platform became a paid service after a month of no-cost testing with customers.
Originally unveiled in October 2008, the Azure platform is a set of cloud computing services that can be used together or independently on a pay-per-use basis. Microsoft also recently launched an Azure forum for users, developers and partners.
Product Road Map
This is the time of year when vendors are prepping to roll out next year's road maps, noted Laura DiDio, principal of ITIC.
"It has been clear for some time that virtualization — and by extension, cloud computing — are playing a bigger role not only at Microsoft, but also some of its competitors," she told the E-Commerce Times.
VMware is ramping up to beat Microsoft at its own game, for example, after bringing former Redmond alum Paul Maritz on board as the CEO, she said. Citrix is gearing up for the cloud as well, she said.
"Ballmer will continue to talk up Azure, the Microsoft virtualization strategy and its products, and how it pole vaults the company into the cloud," said DiDio. "This will be the first of many such speeches."
In particular, the companies are targeting private cloud adoption, she noted. "Public cloud adoption is going to remain slow for some time, but the private clouds can be expected to be deployed at a much faster rate."