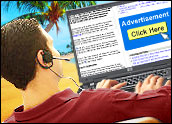 A few weeks ago, Johnson & Johnson presented the blogosphere withan ad for its brand name pain reliever Motrin that was aimed at mothers who were experiencing back pain from carrying their babies around in slings.
The backlash was swift. The ad struck many viewers as having a tone that mocked, or at best condescended to, the very demographic the company was hoping to win over.
Chastened, Johnson & Johnson withdrew the ad.
It is easy to see why Johnson & Johnson may have thought it had a winner with this particular ad: It was snarky in the manner that Web 2.0 audiences have come to expect, with all the accompanying design elements. In other words, it was not an ad that J&J would necessarily have run for a wider television audience.
That was why the ad enraged its would-be customer base instead of merely falling flat. Too often, advertisers make blanket assumptions about who will view an ad in cyberspace. That is a mistake — and a sure-fire way to ruin what could otherwise be a good online advertising strategy — note, the word "strategy" instead of "ad" or "content" here.
"Truth is, advertising online can be just as complicated as running traditional media campaigns, Rob Friedman, executive vice president at Digital Element, told the E-Commerce Times.
A Cyber-Jungle
Now well into its first decade, Internet advertising has become something of a jungle — especially for the novice ad buyer. For starters, there are some 20 to 25 large ad networks, and more than double that number of specialized niche platforms, from which to select. There is also a history of failed campaigns — especially from the early days — littering the byways of the online ad industry.
A knowledge base on leveraging this channel has accumulated over the last few years, but it's still very easy to make mistakes.
Failing to understand the mindset of an online demographic, as J&J did, is just one potential pitfall.
Another very good way to ruin an online ad campaign strategy: Thinking it's all — and only — about the clicks. By now, this should be a no-brainer, but there are still marketers that measure campaign performance based on impressions and clicks, Stephanie Rogers, director of contact planning at Partners+Simons, told the E-Commerce Times.
"While those can be interesting metrics, depending on your campaign objectives, they should not be viewed in isolation. The digital channel is powerful because it is inherently measurable. Be thoughtful about defining success metrics, and then put a framework in place to measure the really key performance indicators so that you have actionable insights to work with."
The key is to collect a lot of data to measure the performance of your campaign, William Madway, professor of marketing and business law at the Villanova School of Business, told the E-Commerce Times. "That's the only way you'll learn what's working and what's not. And don't wait until you're in the middle of the campaign to start your measurement efforts. You're going to need baseline data in order to assess the impact of your campaign on certain metrics like awareness, image and brand preference."
You want to measure performance on actual return on investment, not clicks, advised Liza Hausman, vice president of marketing at Gigya.
"It's the ROI that matters, so marketers need to make sure they can connect ad buys with sales performance and optimize media sources accordingly," she told the E-Commerce Times.
That said, it's also important to balance ROI with volume. "ROI isn't everything if the total dollar amount being driven from a source is low," Hausman emphasized. "Managing and optimizing online campaigns can be very labor-intensive. Cut out low volume sources — they aren't worth your time."
Current economic conditions mean there's more room for negotiation, she pointed out. "If a media source is missing your ROI targets, but a reasonable drop in CPM or CPC could help you achieve your goals, go back to your salesperson and tell them what price they need to hit to stay part of your buy, and offer to increase your spend level [if it makes sense]."
Beyond the Click
It's a mistake to just focus on getting people to click on the ad, assuming the rest will take care of itself, warned Partners+Simons' Rogers.
"If you're lucky enough to get them to click on the banner, then don't risk losing them altogether by simply dropping them at your homepage and expecting them to navigate through to the lead activity on their own," she said. "You need to think about the 'what next?' and design a seamless user experience that gets site visitors to move beyond the banner and into your sales funnel. It could be leveraging rich media to include lead capture right in the ad unit, or driving to a well-designed landing page that has a clear call to action, or any number of approaches — but the key is to make it easy for the user to convert.
Take the time to test and optimize from banner or PPC creative to landing page, advised Gigya's Hausman. "Major improvements can be made by connecting banner creative with specific activity on the landing page. For example, if your banner features multiple product categories, make them clickable — then take the user directly to a landing page reflecting the knowledge you now have of what they are interested in. Take steps out of the process will help increase conversion to sale. Similarly, make the landing page look relevant. If a user has clicked on particular category, be sure there are both visual and text cues that let them know they have landed in the right place."
Failing to assess just how wide an audience you'll be reaching is part of this, said Digital Element's Friedman. "You don't want your ad running on a site that is popular in the United Kingdom, for instance, and then [receive] orders from people expecting to pay in a different currency and to have a product shipped internationally." Fulfillment and other back-end processes can quickly become overwhelmed.
Avoiding these mistakes may seem elementary, but there is something mesmerizing about impression statistics that lulls ad buyers into a sense of false complacency, Hyder Rabbani, head of business development for Brickfish, told the E-Commerce Times.
"People assume that impressions immediately translate into actionable results, he said, "but just because there are 100,000 new visitors showing up on a site each day, that doesn't necessarily mean they will click on a banner ad."