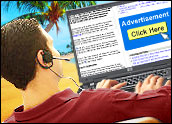 Once seen as immune to economic slowdowns, the online advertising sector has now become the downturn's latest victim.
Based on new data, New York City-based eMarketer predicts that growth in the online ad sector is slowing.
In August, eMarketer predicted that online advertising would grow by 14.5 percent in 2009. Now, after months of economic turmoil that has seen the collapse of the real estate, financial and domestic auto industries, eMarketer predicts Internet ad spending will grow by only 8.9 percent in 2009.
The outlook for the next two years isn't encouraging, either. In 2010, online ad spending will grow by just 10.9 percent, and in 2013, it will grow by just 13.5 percent, according to eMarketer's predictions.
The good news is that even though growth in the market is slowing, spending on Internet advertising is still growing, while spending on print, radio and television advertising is contracting.
Weak Winter, Feeble Spring
The worst may be yet to come for the online ad sector.
"Our expectation is that the real bottom will be coming this March quarter," Colin Gillis, a managing partner at Click Capital Research, told the E-Commerce Times.
The industry could see a year-over-year double digit decline in display advertising for the quarter ending March 31, 2009, he said.
"The December quarter is going to be weak — whatever [advertising] budget is left will be spent," said Gillis, "but when you get your 2009 budget, it will be down 5 percent to 10 percent — and that's if you're lucky. The March quarter is typically weaker than other quarters throughout the rest of the year."
The Good News
There is a silver lining, however, according to eMarketer Senior Analyst David Hallerman.
Search advertising has become a tried-and-true method for showing marketers a demonstrable return on their media spending, he told the E-Commerce Times.
"When budgets are tight, companies look to make the most cost-effective purchases they can," Hallerman said. "That's one reason why display advertising will be far flatter than search. It's harder to show a return on investment, and it's not as effective in getting action from the audience."
Who Will Thrive
Even in a recession, some companies are better positioned to survive a downturn than others.
Search engine giant Google is expected to come through the market turmoil relatively unscathed. Yahoo, on the other hand, is already vulnerable and could look even worse come spring.
"Whatever money is left in budgets will be directed toward [search] advertising," Click Capital's Gillis said. "Marketing dollars are going to those that most often result in customer conversions — which all lends itself well to Google's advertising model."
However, even Google will likely feel some strain.
"Google is going to see slower growth in search advertising," eMarketer's Hallerman said, "and Google still hasn't found a revenue stream that is even a distant second to search. It's lucky for them as a company, in one sense, that search will be stable."
At much-beleaguered Yahoo, however, it's a different story altogether.
The slowing growth of the display advertising sector will hurt the Internet portal, Gillis said.
"Yahoo tends to be more focused on brand dollars and display advertising, although it does still have search advertising," he said.
Microsoft and Live Search
Microsoft is a distant third in the search advertising market behind powerhouses Google and Yahoo.
The software giant's massively profitable Windows and Office businesses will keep Microsoft financially healthy, despite a slowdown in Internet advertising. Yet, the company continues to stutter its way through the search market.
"Microsoft still is not really a significant player in search," Gillis said. "Now, there's talk of them trying to rebrand their Live Search platform again, and that's indicative of where they are in the search marketplace right now."
There may be a potential opportunity for Microsoft to swoop in and acquire a depreciating search asset like Yahoo at a discount, suggested Hallerman.
"[The slowdown in online ad spending] gives a wealthy company like Microsoft the chance to make an acquisition online," he said. "They'll get a far better bargain than they did when they bought aQuantive last year at an inflated price."
Facebook and MySpace Could Howl
Like Yahoo, social networking sites such as Facebook and MySpace are very much dependent on the display advertising market for revenue.
For all their vaunted traffic volumes, MySpace and Facebook have yet to come up with a way to monetize their operations.
"MySpace is still doing OK," Hallerman said. "About 2.5 percent of online ad revenues in the U.S. will go to MySpace, but far more traffic goes through there than gets turned into ad dollars, so there's a disconnect."
Both companies are still trying to come up with better ad targeting technologies, Gillis said.
"That is viewed by some as the next wave of brand advertising on the Web," he noted, "as opposed to static banner ads, which have been around for 10 years."