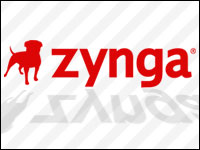 Zynga reported second-quarter earnings lower than expected Wednesday, sending its stock sinking as much as 40 percent Thursday morning.
The maker of popular social games such as "FarmVille" and "Words With Friends" reported a net loss of more than US$22.8 billion, or 3 cents per share.
Facebook was partially to blame for its higher-than-expected losses, Zynga said, as the social network made changes to the way it promotes games, favoring newer titles. That wasn't all bad for Zynga, though — it allowed its new "Bubble Safari" game to grow more quickly than previous launches.
Yet because some of Zynga's biggest draws are older titles — such as "CityVille" and "CastleVille," the company's existing games didn't perform up to expectations this quarter.
Zynga has a new version of "FarmVille," one of its most popular titles, but "The Ville" had a later-than-expected launch, hurting revenue for the quarter, the company said.
With the changes to Facebook's gaming promotion, users weren't as engaged and didn't spend as much time playing, according to Zynga.
The company's expectations for "Draw Something" also dropped, contributing to the quarterly loss. Earlier this year, Zynga paid $180 million for the mobile game from OMGPOP, but demand for "Draw Something" fizzled shortly after the big buy, indicating the game is more of a fad. Zynga said it will continue to invest in the brand to develop similar games.
The company did not respond to our request to comment for this story.
The Profit Game
The changing landscape of the social gaming scene has made Zynga's past few months difficult ones, said Wanda Meloni, president and founder of M2Research.
"The growing costs of development and marketing for games is impacting Zynga's profit margins," Meloni told the E-Commerce Times. "At the same time, Facebook has made changes and there has been more competition coming in with deep pockets."
Zynga lowered its 2012 outlook but said it was optimistic about future opportunities, including real-money wagering games outside of the U.S. where there are fewer restrictions.
The gaming company also needs to attract customers who are going to pay, said Michael Gartenberg, an industry analyst with Gartner.
Zynga makes money by selling virtual goods — such as a plow in "FarmVille" — but in order to remain profitable in the current social gaming scene, it might need to turn to other methods of making sales, he suggested.
Consumer spending on social network games declined 1.5 percent in 2011 from 2010, and the downtrend continues for 2012, according to a recent NPD Games Market Dynamics report.
"Zynga's challenge has been to drive up efforts to keep [consumers'] attention and broaden their user base — which they did," Gartenberg told the E-Commerce Times, "but now they need to get them to pay for those services. Increasing the number of players doesn't mean you're making money off them."
Facebook Ties
Zynga is exploring more mobile opportunities with Facebook. A strong mobile presence will be critical going forward if Zynga wants to remain a competitor in the industry, said Gartenberg.
"This is a mobile-driven world," he pointed out. "As Facebook has pressure to drive more mobile efforts, so too does Zynga. If both were starting today, it's likely they would have launched as a mobile service, not a PC-based Web service."
However the companies would have launched, the two are closely intertwined and reliant on each other now. Facebook's stock also slumped Thursday, after Zynga's losses, just hours before it is set to reveal its first earnings report as a publicly traded company.
That codependence isn't necessarily a bad thing, said M2's Meloni, but Zynga does have to make sure its games will be the first on the fastest-growing new platforms.
"I don't think it is important for Zynga to necessarily distance itself from Facebook, but rather they need to build out their platform more directly," she said.
"They are seeing more competition from the likes of GREE, the Japanese social mobile game company, who has been aggressively investing in North America and Europe game content and marketing," Meloni noted.
"There will continue to be more competition, especially in the mobile space," she said, "so it is critical for Zynga to implement its mobile strategy as quickly as possible."