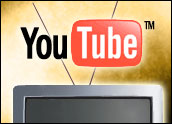 The Pew Research Center's Project for Excellence in Journalism has released a study that suggests television news needs to revamp its approach in how it uses videos to support its reporting. The study found that YouTube has become a major news source — in particular, for eyewitness videos — that could one day rival traditional TV news broadcasts.
Not that television news is in danger of an immediate demise — the survey notes that television viewership is still the top source of news consumption. However, it is clear that digital video sharing is a huge growth channel. More than a third of the most-watched videos were taken by eyewitnesses to such events, while 51 percent were produced by news organizations. Some of the professional news videos included footage captured by citizens — but often it was not explicitly attributed as such. Another 5 percent of the most-watched videos came from newsmakers themselves, and 5 percent were not labeled.
National Disasters, Political Upheaval
Natural disaster videos are among the most watched, the study found, as well as videos of political upheaval that feature strong or dramatic scenes. Among the top-watched videos during the study period, the Japanese earthquake and tsunami accounted for 5 percent of the 260 most-watched videos, followed by elections in Russia, at 5 percent, and unrest in the Middle East, at 4 percent. Other popular videos included the stage collapse at the August 2011 Indiana state fair and the January 2012 crash of an Italian cruise ship.
Video of protests and riots made up 9 percent of the top videos, including the protests in the Middle East and the London riots of August 2011.
The Future of TV News
At face value, the findings are dire for television broadcasters. YouTube is part of the revolution in social media in which consumers of news and information are increasingly becoming producers, either by providing the news themselves, or deciding when they see the news and on what topics, Paul Levinson, professor of communication and media studies at Fordham University, told the E-Commerce Times.
"On YouTube, people in effect become producers of their own news programs — they can watch the stories they want any time they choose, in whatever order they choose, repeated as often as they please. This is a marked difference to the straightjacket of news presentation in all traditional media — newspapers, radio, television — which present programming on their schedules, not ours."
Differences in Coverage
How much leeway broadcast television has to counter these trends is unclear. For instance, many of the events that YouTube viewers flocked to were also covered — sometimes exhaustively — by the three major network evening newscasts of ABC, CBS and NBC.
At the same time, though, the networks also devoted time to subjects less likely to make it to YouTube, such as foreign affairs, economics, health and business. In short, even though Secretary of State Hillary Clinton's visit to Egypt right now may not be of interest to many people, it is hard to envision the evening news skipping it altogether from their coverage.
Still, there is room for broadcasters to make changes — or at least experiment — in the face of YouTube's growing popularity.
For example,a typical video on local television is about 41 seconds, the study notes, and the median length of a network TV news package is 2 minutes and 23 seconds, both of which can be too short to tell a comprehensive story.
Viewers are willing to watch content of longer periods if it is compelling.
Trust Is Low
Another trend, but one that may be harder to counteract, is that trust and interest in traditional news sources is at an all time low, Rob Enderle of the Enderle Group told the E-Commerce Times.
"Unless they can put up a defense, it is likely users will bypass them and go to a YouTube-based service instead that tailors the news for them and serves up the videos they want to see," he said.
Pew and Google did not respond to our requests for further details.