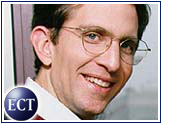 Yahoo! (Nasdaq: YHOO) inked a deal with Akamai Technologies (Nasdaq: AKAM) on Wednesday that will allow the Internet portal to deliver geographically targeted, local advertising to Web surfers.
Santa Clara, California-based Yahoo! plans to use Akamai's targeting technology, called EdgeScape, to pinpoint a surfer's geographic location. Yahoo! said the service will allow it "to increase advertising relevance."
Financial details of the agreement, which extends an existing deal between the two, were not disclosed.
EdgeScape works by capturing the Internet protocol (IP) address — a numeric code used to route signals across the Internet — and comparing it with a mapping database to determine which Internet service provider (ISP) a person is using.
Identifying a surfer's ISP will, at least theoretically, allow Yahoo! to determine the city and state where the Web surfer is located. Yahoo! is going to use the new service to hawk advertising to local merchants, as well as to national advertisers looking to target messages to specific geographic regions.
On the Trail
For example, pizza delivery powerhouse Domino's could advertise specials that are available only in one geographic region.
Using EdgeScape will also allow Yahoo! to provide advertisers with reports measuring certain metrics that relate to the effectiveness of individual ad campaigns, the company said.
According to Yahoo!, the service will give advertisers the opportunity to use tools that analyze gross demographic patterns and bandwidth characterization data.
Nothing Personal
Akamai president Paul Sagan said the company was pleased to be providing Yahoo! with "the intelligence for creating a more exact match between relevant content and users' needs."
According to Akamai, no personally identifying information is captured by EdgeScape.
Wrong Turns?
Although Yahoo! is hoping that the EdgeScape service will boost its advertising revenues, analysts say the technology is not foolproof and cannot always pinpoint a user's actual location.
For example, some large ISPs, such as America Online (NYSE: AOL), issue IP addresses tied to the ISP's own location, not the consumer's location. So, at least theoretically, all AOL users would receive advertising that is targeted to Virginia, where AOL is headquartered, rather than the users' residences.
Akamai spokesperson Jeff Young told the E-Commerce Times that its service agreement with Yahoo! guaranteed 97 percent accuracy in locating a Web surfer's country of origin and 80 percent accuracy in identifying the metropolitan area a surfing session originated from.
However, Young added, the service agreement excludes America Online consumers, because AOL's IPs are all coded to reflect its Virginia headquarters.
A white paper on the product written by Akamai states: "There will always be a country code associated with an IP address. All other elements in the database, including region code, country code, network code, and network type are optional and may not be associated with a particular IP address."
When in France
While Yahoo! has signed on to use Akamai's mapping technology to sell ad space, in another arena, the company has maintained that foolproof geographic mapping is technologically impossible.
In the ongoing litigation brought by several watchdog groups in France, Yahoo! is contesting the use of user-geographic mapping technology to ban French citizens from viewing the auctions of Nazi artifacts on its U.S.-based auction site.
In the proceedings in France last year, Yahoo! argued that blocking all French citizens was not feasible.
However, after a panel of experts found that it would be possible for Yahoo! to filter out 70 to 80 percent of all French users based on their IP address, the French court ruled against the portal. In November, Judge Jean-Jacques Gomez of the Paris Tribunal de Grande ordered the Web giant to block French citizens from access to Nazi-related items on its site — or face fines of US$14,000 a day.
Cross-Border Battles
Yahoo! announced in January that it would bar Nazi memorabilia from its site. However, Yahoo! is still pursuing its own lawsuit, pending in a federal court in San Jose, California. In the U.S. case, Yahoo! is asking the court to declare that the French court's order is not unenforceable in the U.S.
Yahoo! won a victory earlier this month when the U.S. court denied a request by the defendant French watchdog groups to dismiss the suit.