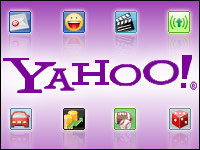 Yahoo acquired video chat startup OnTheAir on Tuesday in a move that may be more about deepening its mobile talent pool than adding a new service to its lineup.
OnTheAir is a video broadcasting app that allows users to chat on a split screen or broadcast live video streams. The app was created as a webinar platform for professionals. It allows the host to incorporate audience questions via the split screen for a live, visual interview. The service is similar to the Google Hangouts feature on Google+.
Now is a fascinating time to join Yahoo because of its commitment "to making mobile products the backbone for the world's daily habits," OnTheAir said.
Neither company released the financial details of the deal. OnTheAir did not respond to our request for further details.
All-in on Mobile
Launched last March, OnTheAir is run by a five-person team, whose past jobs include stints in software and infrastructure at companies such as Apple, Google and Meebo.
"OnTheAir is a small outfit. Their service has not had a huge following in the short time they have been in beta," said Pim Bilderbeek, founder of Bilderbeek Consulting. "Looks to me Yahoo is acquiring mobile tech talent rather than the product."
Mobile talent is a key priority, said Zeus Kerravala, principal analyst at ZK Research. Once a leader of the Internet frontier, Yahoo has fallen behind rivals such as Google, Apple and Facebook in part by failing to keep up with new trends in smartphones and tablets.
Reversing that decline is part of recently hired CEO Marissa Mayer's undertaking at Yahoo. Going after top talent that puts mobile as a priority is a good way to do so.
"The company's direction, especially since Mayer took over, is to be more of a mobile player," Kerravala told the E-Commerce Times. "Where we are with mobile apps now is a lot of small form factors for the bigger websites. To truly go mobile, we need to think different, such as apps that leverage someone's location. To be able to transform, they need to bring in talent like this that thinks mobile first, not mobile as an afterthought."
Innovation Attempt
Just jumping into the mobile game isn't going to be enough for Yahoo to be a big-time player in the tech space, though, said Gordon Owens, digital marketing professional at GO Digital WSI. It's likely OnTheAir, as it looks now, won't be a part of Yahoo going forward, but the company should make sure it can use those resources to build a potential game-changer, he said.
"I am glad to see Yahoo is doing something, but continuing to copy other's good ideas is not going to bring them back," he told the E-Commerce Times. "Yahoo needs to lead the way and not follow, so I hope they will use this acquisition to do something innovative or disruptive."
Even if OnTheAir doesn't directly lead to a Yahoo turnaround, though, the acquisition is a step in the right direction, said Kerravala. As long as the company has the resources to make these types of acquisitions, it needs to continue to do so, he noted.
"They are clearly late to the mobile game, but you don't catch up and pass someone if you don't have the right talent to do it," Kerravala observed. "Hopefully the influx of new talent will come up with something innovative. They're operating significantly from behind. With the right talent they have a slim shot, but without it, they have no shot."