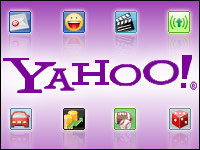 Yahoo's latest earnings report was a mixed bag, and Wall Street didn't seem to know how it should react. Following Tuesday's report, the company's stock dropped slightly on Wednesday, then rose slightly and ended the day a tiny bit ahead. On Thursday, Yahoo shares were off by about 2 percent mid-day, in sync with the market overall.
That sound you hear, said analyst Trip Chowdhry, is the collective scratching of heads over Yahoo's direction.
"Initially, I think investors were enthusiastic because in some respects Yahoo did better than expected," Chowdhry, managing director of equity research at Global Equities Research, told the E-Commerce Times.
"Now reality is setting in," he continued. "There were some disappointing aspects to the figures, and while Yahoo may be working hard to reinvent itself, there is no quick fix for its problems."
Chowdhry's advice to would-be shareholders and current investors: "Stay on the sidelines for as much as possible until we get a better sense of where [CEO Marissa] Mayer is taking the company."
That is a somewhat surprising take, given that Yahoo actually delivered some better-than-expected results.
Q1 Snapshot
Its net earnings for the first quarter of 2013 were US$390 million, a 36 percent increase from the same period of 2012.
Yet that's no reason to break out the champagne and cigars, said Andreas Scherer, managing partner of Salto Partners.
Revenue, at $1.1 billion, was down 7 percent from the year-ago quarter. This blow is cushioned a little if revenue is calculated excluding traffic acquisition costs — in that case, it comes to a little more than $1 billion for the quarter, which is flat compared with the first quarter of 2012.
"The fact that Yahoo is more profitable than expected is nice, but in the long run the only thing that matters is top line growth," Scherer told the E-Commerce Times. "Mayer has to accelerate revenues as the Googles and the Facebooks of the world pick up steam."
List of Achievements
It's not likely the need for accelerated revenues is lost on Mayer. In her third quarter as CEO of Yahoo, the company took several steps to bring it closer to its financial goals, including a revamp of the site, featuring a customizable news feed and interface optimized for mobile devices and tablets.
Yahoo also partnered with Dropbox in the previous quarter so users could share and store larger files as attachments.
It acquired Snip.it, Alike, Summly, and Jybe, bringing in-house functionality in the mobile and personalization realms.
Yahoo also forged an agreement with Google to display ads on various Yahoo properties and certain cobranded sites using Google's AdSense and AdMob.
In short, Yahoo had a busy Q1, but "the impact of these moves will be seen in subsequent quarters," Scherer said.
Disappointing Ad Sales
Certainly, display ad revenue needs a boost, and Yahoo's deal with Google could build some momentum in that area.
Yahoo's numbers, broken down, include display revenue of $455 million for the first quarter, an 11 percent decrease compared with $511 million for the first quarter of 2012.
The number of ads sold decreased approximately 7 percent, year over year, and the price-per-ad decreased approximately 2 percent.
"The turnaround is still a work in progress," Scherer concluded. "Within the next three quarters, the board and shareholders will be able to determine if the company chose the right strategy."