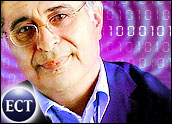 Yahoo! (Nasdaq: YHOO) said Tuesday it has reached a multiyear agreement with Sony (NYSE: SNE) that encompasses online movie marketing, e-commerce and Web site development, and leaves the door open for additional deals between the two companies.
"This agreement represents a significant commitment of two industry leaders to collaborate on multiple levels," Yahoo! chairman and chief executive officer Terry Semel said. "We plan to continue to build on both companies' strengths and explore additional opportunities over time."
The deal, financial terms for which were not disclosed, includes development of a co-branded Web site that Yahoo! will host. The Sony site will feature product releases, news and services for Sony customers and become the main site for Sony's Style Connect online access service.
Prime Placements
Sony's own e-tail outlet, SonyStyle.com, will get a featured location on Yahoo's shopping hub.
Yahoo! will also help Sony develop a portal for all of its U.S. properties, bringing together its electronics products, online games and movie content.
Additionally, Sony will launch a marketing campaign on Yahoo! in coming weeks for several upcoming Sony Pictures feature films.
For its part, Yahoo! will get prime placement on all of Sony's VAIO computers, which will be loaded with software to encourage computer users to register for Yahoo! services.
Personal Touch
Sony CEO Howard Stringer said the deal offered Sony a chance to fine-tune and personalize its Web offerings.
"It will give us the ability to have more direct customer relationships across all Sony companies," said Stringer. "This relationship will serve as one of the models for Sony's expansion into digital media in the 21st Century."
Semel's Stamp
Since Semel, a former Warner Brothers executive, took the helm at Yahoo!, the company has been aggressively reducing its dependence on advertising while at the same time looking to leverage its massive international user base for marketing purposes.
In June, Yahoo! bought online music provider Launch Media and inked a deal with Akamai Technologies that enables it to deliver localized advertising.
On Monday, Yahoo! announced a deal with HSBC Holding (NYSE: HBC) to deliver person-to-person payments to its members.
Slow Change
Last month, Yahoo! narrowly beat lowered expectations for the second quarter. At the time, Semel predicted the portal would evolve one deal at a time.
"There is no single event that will transform this company," Semel said. "What you will see is a series of actions and you will see them begin to unfold this quarter. … Yahoo! is in control of its future."
With both marketing and e-commerce elements, the Yahoo-Sony deal is similar to one that America Online (NYSE: AOL) struck last month with Phillips Electronics (NYSE: PHG).