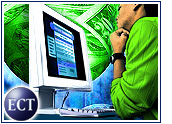 Internet portal Yahoo! (Nasdaq: YHOO) announced Monday that it will soon launch a new co-branded version of its person-to-person (P2P) payment system, Yahoo! PayDirect, that will be powered by London-based banking giant HSBC Holdings (NYSE: HBC).
"With this agreement, HSBC becomes our global financial partner, helping ready us for our next phase of growth and further extending Yahoo's leading financial and commerce services," Yahoo! executive vice president for North American operations Greg Colemansaid.
The companies said they also plan to license Yahoo! PayDirect technology to other businesses. However, Morningstar.com analyst George Nichols believes that the revenue received from the licensing agreements will have a negligible effect on Yahoo's bottom line, at least in the short term.
"I expect no significant contribution to either revenue or earnings for several more quarters," Nichols told the E-Commerce Times.
Nichols added that he also believes Yahoo! will have a tough time competing against P2P market leader PayPal and new competitors such as Citibank.
Amicus Replaced
Amicus, a division of the Canadian Imperial Bank of Commerce (CIBC), had been providing financial services for Yahoo! PayDirect.
"Yahoo! and CIBC have had an excellent relationship over the last year," Yahoo! vice president of international marketing Jasmine Kim said."Yahoo! wanted to make Yahoo! PayDirect a global offering and in order to doso, we needed to find a partner that had a large global footprint and thatoperated in all of the same countries that Yahoo! does."
HSBC currently has offices in 79 countries around the world, whereas CIBC operates primarily in North America.
"HSBC is not a well-recognized name domestically but is a European powerhouse," Nichols said.
Worldwide Services
Although Yahoo! PayDirect is currently available only in the U.S., Yahoo PayDirect with HSBC will eventually be accessible to Yahoo! and HSBC customers around the world, the companies said.
Pending regulatory approval, Yahoo! and HSBC plan to launch the new service in the U.S. later this year, and afterward extend the service to other countries served by Yahoo! and HSBC.
HSBC spokesperson Kathleen Rizzo Young said that details are being "fleshed out right now as to which countries and continents" Yahoo! PayDirect with HSBC will be available in, and when.
Cross-Marketing Planned
Current PayDirect users will be able to transfer their accounts from CIBC National Bank to HSBC.
Yahoo! and HSBC also plan to launch online and offline cross-marketing campaigns aimed at Yahoo's 200 million users and HSBC's 28 million customers.
Financial terms of the deal, which is set to run through 2002, were not released.