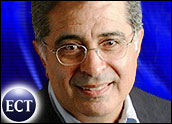 Despite a net loss of 9 U.S. cents per share over the second quarter of 2001, Yahoo!(Nasdaq: YHOO) gained a minor victory in front of Wall Street on Wednesday, with the announcement that its pro-forma net income for the quarter was a penny per share.
Analysts had expected the portal giant to report breakeven earnings forthe quarter just ended, down from income of 12 cents per share a year earlier.
"There is no single event that will transform this company," said Terry Semel,Yahoo's new chairman and chief executive officer. "What you will see is a series ofactions and you will see them begin to unfold this quarter. Each verticalbusiness will be supported by multiple revenue streams. Yahoo! is in controlof its future."
By the Books
Net revenues for Yahoo! in the quarter ended June 30th totaled US$182.1 million, nearly a$91 million drop from the year-earlier quarter.
Including $45.5 million in restructuring and acquisition-related charges, the company posted a net losson the quarter of $48.5 million, compared with net income of $53.3 million,or 9 cents per share, a year earlier.
The company expects pro-forma earnings per share (EPS) for the third quarter2001 to be approximately breakeven. However, the company also said it expects its pro-forma EPS to fall in the range of 2 cents to 6 cents for the full year 2001.
Tuning In
Yahoo! filled the most recent quarter with a flurry of attempts aimed at diversifying thecompany's revenue streams, through such means as building a global music service.
The company's revenues from business and premium services are expected toapproach 20 percent of its total revenue for the entire year, Yahoo! said. Yahoo's domestic revenue per customer also showed a steady increase of 20 percent overthe first quarter.
Yahoo! started improvising right after the first quarter ended, with the announcement that it had formed an alliance with Duet, a subscription-basedmusic service being developed by two of the world's largest record labels. Since then, Yahoo! acquired online music provider Launch Media, launchedYahoo! Music in Canada, China, the United Kingdom and Ireland, and unveiledYahoo! Broadcast.
The company also inked a deal with Travelocity to createinteractive multimedia broadcast centers, and partnered with Consumer Reportsto offer product ratings and buying guides on its shopping site.
Ads Coming Back
Yahoo! attributed the quarter's lower gross margins partially tothe upward trend in content costs that have come as part of Yahoo's newalliances.
"We see this time as our opportunity to regroup, rebuild, and be strongerthan ever when the advertising market picks up again around the middle of2002," Semel said.
According to Semel, Yahoo! is beginning to see the ad market settle down, and that the quality of its ad sales "have been improving steadily."
Regroup, Rebuild
Shares of Yahoo! traded down as much as 14 percent at times during the day, but rallied to finish at $17.03, down 80 cents or 4.5 percent.
In after-hours trading, however, Yahoo! rose 8.1 percent to $19.13.
Semel pointed to three areas for Yahoo! to focus on over the next year tocombat the current economy and sluggish advertising environment: seeking out more partnerships and joint ventures with majorcorporations for leading content or distribution services, possible futureacquisitions, and innovation in the area of customer personalization.
"One of the elements we'll bring to the table is much more personalization,"Semel said.