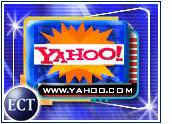 Under pressure brought on by the softening online advertising market, Internet powerhouse Yahoo! (Nasdaq: YHOO) announced Monday that it will start offering premium financial services and content for a monthly fee.
According to the Santa Clara, California-based company, the new service willstream unlimited real-time stock quotes and financial news directly to users' desktops, as well as to mobile devices, such as wireless phones, pagers andpersonal digital assistants. The package will cost US$9.95 a month.
Although Yahoo! said that it had developed the service in response to customerdemand, it remains to be seen whether the portal giant will manage to buckthe current market downturn and build a significant base of subscriberswilling to pay for such information.
For its part, Yahoo! said the convenience of its up-to-minute service makesit a "must-have" for investors who are looking to "better understand marketdynamics and make informed investing decisions."
Asking Price
Yahoo's market tracking package is not the only fee-driven finance servicethe company has initiated in its bid to stem its losses from a shrinkingadvertising revenue pool. Among Yahoo's other offerings are a bill-payingservice and a tax-filing program.
In addition, the online heavyweight has begun implementing a number ofnetwork-wide strategies to cultivate steady alternate revenue streams,including a move in February to include "sponsored listings" for businessesin its Yahoo! Directory — guaranteeing top placement for fee-payingcompanies over non-sponsored listings.
Yahoo! also has sought to expand its service in the Australian market,purchasing domestic online auction house Sold.com.au from a division of JohnFairfax Holdings Limited last month.
Auction Drop
Customer reaction to Yahoo's recent decision to tack on listingfees to its auctions, however, underscores how difficult it can be tobegin charging users for a service they have grown accustomed to receiving for free.
In the weeks following the implementation of the auction fees,many users abandoned the service, causing an 80 percent decline in listings.
Stepping Out
The company also has been rocked by the loss of several high-profileexecutives over the past few months, including Tim Koogle stepping down as chief executive officer in March.
Koogle's departure came on the heels of Yahoo's announcement that it waslowering its guidance for the first quarter ending March 31st. Yahoo! said that it expected revenue for the period to fall between $170 million and $180million, and that net income will be approximately breakeven.
Previously,Wall Street analysts had been expecting revenue of at least $232 million andprofits of 5 cents per share.
"All businesses in the United States are facing challenging economicconditions that have weakened further in recent weeks," said Koogle at thetime, "and as consumer confidence and spending has deteriorated, a broadrange of customers have delayed their spending across all media formatsuntil their economic outlook improves."