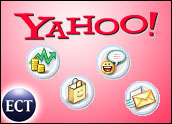 Yahoo is fine-tuning its online advertising platform with the launch of three new targeting tools. The company introduced them Tuesday morning, during its keynote presentation at the annual conference of theInteractive Advertising Bureau.
The new products:
Search Retargeting, which targets display advertising based on user search activities;
Enhanced Retargeting, which delivers display ads across the Yahoo network based on user activity on an advertiser's site; and
Enhanced Targeting capabilities for search advertising, including ad scheduling and demographic targeting within search.
All About Return on Investment
These products are designed to help advertisers target ROI on their advertising spend more effectively, David Zinman, vice president and general manager for display advertising at Yahoo, told the E-Commerce Times.
One way Yahoo is doing that is by combining its search and display ad strengths in a single offering.
"Search terms are a strong indication of user intent right before they make a purchase. That is useful information for a display advertiser," noted Zinman. So, Search Retargeting for display advertising leverages search terms and then retargets the user with display ads.
Someone searching for information on home improvement techniques, for example, would see ads for hardware stores.
Enhanced Retargeting combines standard site retargeting with ad generation. In this scenario, users who visit an airline Web site looking for flights from Dulles International Airport to New Orleanscould receive a personalized offer for that specific flight when on a Web site within the Yahoo Network.
Yahoo said that in a trial of this product, an online travel company saw a 230 percent increase in totalbookings and a 651 percent increase in click-through rates.
Yahoo Search Marketing also plans to offer advertisers Enhanced Targeting capabilities for Sponsored Search and Content Match programs in March. New features will extend the advertiser's control over where and when an ad is shown both at the campaign and the ad group level, including the time of day and day of the week. Age and gender are other available targets.
Yahoo is right about advertisers seeking out even greater value and ROI in their campaigns, Michael Katz, president of InterClick, told the E-Commerce Times.
"During this severe economic downturn, there has been a paradigm shift, which has led to a flight to value," he maintained. "Advertisers are shifting share of wallet away from overpriced real estate on publisher sites and spending more with the platforms who can deliver specific audiences at scale."
Next-Gen Advertising
That said, it may be that what Yahoo is doing targets current demand — but not the direction in which online advertising strategies are heading.
"To be honest, I do not see this as a game changer for the industry," Becky Carroll, director ofsocial media for BrickFish, told the E-Commerce Times. "This offering is all about increasing relevancy, which is important. So it will improve the results that an advertiser gets — but it is still not cutting edge."
Cutting-edge, according to Carroll's view, are those strategies that empower consumers to carry an advertiser's message — and conversely empower advertisers to leverage consumers' own content about their products. Favorable blog posts or Twitter comments are a rudimentary example, she said.
"People who end up on special interest sites are not going to pay attention to banner or display ads," Rodney Mason, CMO of the digital agency Moosylvania, told the E-Commerce Times. "What they will respond to are tools that allow them to continue to spread the word and interact with the company."
Wikia.com, for example, allows people to create their own mini wikis. Increasingly, advertisers use Web 2.0 sites like Wikia to let people comment on a new product rollout. It becomes a resource for the company, as well as a defacto advertising tool.