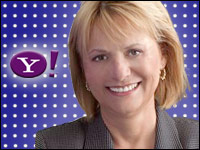 It can be argued that Yahoo doesn't need to engage in a lot of executive housecleaning and downsizing during a reorganization expected this week from new CEO Carol Bartz. The turmoil at Sunnyvale over the last year has achieved that goal for her.
"They've already had a pretty significant exodus of top talent over the last six months," Tim Bajarin, president of Creative Strategies, told the E-Commerce Times. "Some of the guys that left were big guys who were really running everything, from management all the way to the execution layer."
Ironically, a few of those key departures benefited Microsoft, architect of the takeover bid last year that roiled Yahoo's shares (and shareholders) and prompted those executives to update their resumes. Those leaving for Redmond included Qi Lu, the search/advertising genius who is now trying to help Steve Ballmer build out a Web services strategy.
Those who remain will find themselves playing musical high-backed executive chairs once again, less than a year after former Yahoo CEO Jerry Yang shuffled vice-presidents to create three core business units reporting to president Susan Decker. Now, the focus among Yahoo watchers isn't just on names and new titles; it will be on which industry segments Bartz identifies as core strengths and which will probably be jettisoned under her regime.
Search Still King at Sunnyvale
"Over the last three to four years, in many ways Yahoo's tried to do too much," Bajarin said. "There's no question their search business will continue to be very important, a key crown jewel. Search is too critical to who they are and what they can build on."
That foundation now includes search products for the educational and corporate markets, but you can also expect Bartz to move further down the road toward mobile search and all the potential targeted ad revenue that could follow in that still-developing arena. "They don't have a choice. They just need to make that a huge part of their expansion."
"Search is always going to be there (for Yahoo) and search advertising," Mukul Krishna, analyst for Frost and Sullivan told the E-Commerce Times. "But you have Google right there, and everybody is trying to play catch-up. You just can't keep focusing on that."
Krishna's argument is that Bartz should start developing new strategies that take advantage of Yahoo's existing investments in user-generated and social media, such as 360 and Flickr. "You try to strike a balance and look at other properties through which you can drive a lot of advertising revenue. If you have properties where people are signing in, you have a good idea about demographics and then you can push advertising toward that. That is where I feel the focus should be."
Yahoo's New Media Strategy
Many have argued that former CEO Terry Semel's push to make Yahoo a major media player, with investments in television and music, helped dilute the company's core strengths and wasted a lot of time and money. "When I looked at Google, MSN and Yahoo seven years ago, I thought they had the capability of being the NBC, CBS and ABC of the digital world," Bajarin said. "All three of them could have built themselves into very important media channels, but for various reasons only Google has done that and only through acquisitions."
Bartz should use the portal mentality which still exists on the Internet — the mentality that helped build Yahoo into a digital brand — and figure out a way to curate the ever-expanding universe of Web media, Bajarin says. "In the digital age, as more stuff is thrown at you, the more you're going to look at organized mechanisms to take that stuff and put it in a structured way, to do faster previews — not only stocks and news, but other things that can be customized. Yahoo has a pretty strong background in that area and can deliver what I assume to be creative things."
Bartz's Management Structure
Published reports have indicated that Bartz, who helped put Autodesk on the industry map, will go back to Yahoo's future by giving those executives left who drive technology innovations a greater voice within the corporation. She is also expected to streamline decision-making, with her desk the final stop in the process. "That's the way she works," Bajarin said. "In many ways Yahoo was managed by committee under Yang. I have to believe she brings greater structure, greater accountability and will organize the divisions in a much cleaner way. That is typical of her much more top-driven way of handling the company."
"What they really need to do right now is understand they have fantastic Internet holdings," Krishna said. "What they have not done very well until now is be able to consolidate that and use their information to improve their advertising revenue. That is something she needs to concentrate on right now."