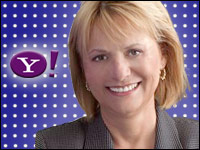 Yahoo's stock surged nearly 7 percent to US$12.12 per share in mid-day trading on Wednesday after the struggling Internet portal reported better-than-expected fourth-quarter financial results.
Wall Street analysts also seemed impressed with the debut of new CEO Carol Bartz, who took over the reins from company cofounder Jerry Yang just a little more than a week ago.
Yahoo reported a $303 million loss during the fourth quarter compared to $206 million in earnings during the same period in 2007. Revenues were $1.81 billion, a 1 percent decrease from $1.83 billion in the fourth quarter of 2007.
For the full year in 2008, Yahoo reported $424 million in earnings compared to $660 million in earnings in 2007. Revenue in 2008 was $7.2 billion, up 3 percent compared to $6.9 billion in 2007.
Yahoo, which had $2.3 billion in cash at the end of the fourth quarter, provided limited guidance for the first quarter of 2009. The company expects to report between $1.5 billion and $1.7 billion revenue for the current quarter.
A Hollow Victory
"The results were mixed and slightly better than our estimates," Derek Brown, an equity analyst at Cantor Fitzgerald, told the E-Commerce Times. "However, we did reduce our estimates on Jan. 14, so it's a little bit of a hollow victory."
The outlook for the first quarter was "appropriately somber, though I don't think that should surprise anyone," Brown said.
In general, the fourth-quarter results tell a story of a company that continues to lose market share and struggles to find its direction — factors that are being exacerbated by the current recession, he said.
Yahoo's results reflected an overall trend in the Internet advertising market that has businesses favoring search advertising over display advertising. Search advertising at Yahoo grew by 11 percent while display advertising fell by about 2 percent.
Bartz Impresses Wall Street
Yahoo's conference call with analysts Tuesday was Bartz's first as CEO. Wall Street analysts were impressed despite the fact that she did not outline a long-term plan for Yahoo's turnaround during the call.
"She made it very clear that all options were being considered but that no decisions had been made," Brown said. "In the course of her due diligence, she's trying to better understand what, if anything, can be broken off from the core, what the right strategy to pursue is and how it should be pursued."
Bartz did, however, tell analysts that there were three things that need to be addressed if a turnaround is to be successful: a sharpening of strategic focus, a simplification of the business and more rapid decision making, he said.
"We were impressed by her candor and willingness to share her early impressions," Brown said.
Bartz made a similar impression on Pacific Crest Securities equity analyst Steve Weinstein.
"Carol seems like a no-nonsense person who's prepared to make some tough decisions," Weinstein told the E-Commerce Times. "She seems to have a grasp of the difficulty facing Yahoo and seems willing to make changes."
No Quick Microsoft Deal
While she didn't come right out and say it, the deliberate pace Bartz has set for assessing Yahoo's various businesses could keep any potential deal with Microsoft from happening any time soon.
Last year, Microsoft made an unsolicited bid for Yahoo worth $47 billion. Yang spurned the offer, much to the disappointment of some of the company's board members, including activist investor Carl Icahn.
Microsoft has since then said it is no longer interested in an outright acquisition of Yahoo. However, Microsoft CEO Steve Ballmer has said there is a possibility that Microsoft will look to acquire Yahoo's search business or that the two companies will strike up a partnership of some kind centered on search.
Bartz's deliberate approach is the right one to take, Cantor's Brown said.
"The basic assumption that Yahoo should sell its search business overlooks a meaningful issue," he said. "Yahoo gleans an incredible amount of user intent and interest from its search business that can be applied to its display advertising business."