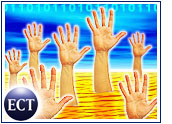 Just one day after saying it would slash its 15,000-employee workforce by 10 percent, struggling Internet giant Yahoo announced Wednesday that its profit dropped by a whopping 64 percent during the third quarter.
Sunnyvale, Calif.-based Yahoo also announced that revenue would be lower than it had expected for the remainder of 2008 and told Wall Street that it was too early to make any financial projections for 2009.
Despite the bleak outlook, Yahoo's stock appeared to hold its own — in mid-day trading, the company's share price was up nearly 5 percent to US$12.80. However, that's well below its 52-week high of $34.08 per share.
At the moment, Yahoo appears to be caught in a vortex of bad news, but there's still reason for optimism that it can turn itself around.
Display Business Hurting
Yahoo's revenue rose just 1 percent to $1.79 billion during the third quarter. The company reported third-quarter profit of $54 million, down from $151 million during the same period in 2007.
The chief culprit in the massive profit falloff was Yahoo's struggling online display advertisement business, according to Steve Weinstein, an equity analyst with Pacific Crest Securities.
"The display side is slowing down due to economic issues and a transition to network-type of inventory from premium big portal guys," he told the E-Commerce Times. "There's less money going into the big home page buy."
That said, Yahoo could turn itself around if its pending online ad deal with search engine powerhouse Google passes muster.
If the DoJ gives its approval, then "that deal could provide tremendous upside," said Weinstein.
However, Yahoo is also suffering from the larger economic slowdown, which has resulted in advertisers tightening their purse strings.
"The [third-quarter results] confirmed what had widely become suspected, which is that Yahoo's business is struggling, and that the economy is taking its toll," Derek Brown, an equity analyst with Cantor Fitzgerald, told the E-Commerce Times.
The Big Microsoft Mistake?
Yahoo's board has taken a lot of criticism for rejecting a buyout offer from Redmond, Wash.-based software giant Microsoft earlier this year. The deal would have paid Yahoo investors $33 per share — nearly triple their value today.
"I think that with the stock at $12, it's hard to suggest they made the right decision," Brown said.
Still, there's no certainty that a deal with Microsoft would have helped turn Yahoo around over the long term.
"From a shareholder's perspective, it would have been attractive," Weinstein said, "but I don't think Microsoft has shown any evidence that they know how to run an Internet business better than the guys at Yahoo. There'd be an opportunity to take some costs out of the business, for sure, but as far as growing the top line — I don't think they'd do any better."
Microsoft has yet to prove itself in the online universe, Brown pointed out.
"Microsoft hasn't created anything as successful as Yahoo has online," he said. "They were late to many of the technologies and innovations in the industry, and while that hasn't stopped them from being successful in some of them, they aren't a leader in many of them."
Yahoo has the chops to turn itself around, maintained Brown. "I don't know when and what might trigger that event. Between their existing traffic flows, cash and core service offerings, they've got many of the pieces they would need."
Other Tech Results
A number of other companies in the technology sector also reported third-quarter financial results Wednesday.
Apple reported $1.1 billion in earnings on $7.9 billion in revenue in the third quarter, up from $904 million in earnings on $6.2 billion in revenue during the same period a year ago. The increase in profit and revenue was fueled by demand for the iPhone.
AT&T, the largest American phone company, reported third-quarter earnings of $3.2 billion on $31.3 billion in revenue, an earnings increase of 5.5 percent over the same period a year ago. However, those results trailed Wall Street expectations, due largely to AT&T's heavy subsidy of the fast-selling iPhone.
Data storage equipment maker EMC announced that earnings in the quarter ended Sept. 30 fell 17 percent to $411 million. Third-quarter revenue climbed 13 percent to $3.72 billion, but EMC also lowered its earnings forecast for the fourth quarter in the wake of the slowing economy.