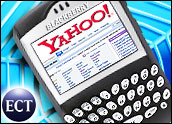 Yahoo on Monday broadened the nascent world of cell phone advertising by launching a mobile ad platform in 19 countries. The service, which was first offered in the United States in November, allows companies to run interactive advertisements on the Yahoo Mobile Web home page.
The company said it signed agreements with "major global advertisers" including Hilton's Embassy Suites, Infiniti, Intel, Nissan, Pepsi, Procter & Gamble Asia Pacific and Singapore Airlines. The ads will run near the top of the Yahoo mobile home page and will be "interactive," meaning interested consumers can call the advertisers instantly, or get more information about the offers, by clicking on the ad, according to Yahoo.
The company simultaneously announced a revamping of its mobile Web homepage. The "Yahoo Go For Mobile 2.0" changes will make the page work faster and make it easier for users to "search, check their e-mail, instant message, stay current on breaking news, catch up on sports and more," Yahoo said.
The new home page with advertising is now available on mobile networks in Argentina, Australia, Brazil, Canada, France, Germany, India, Indonesia, Italy, Malaysia, Mexico, Philippines, Singapore, Spain, Taiwan, Thailand, United States, United Kingdom and Vietnam, the company added.
Advertisers Hit the Road
Mobile advertising will work as long as it's highly focused, Alan Chapell, president of Chapell and Associates, a strategic consulting firm focusing on mobile and interactive technology, told the E-Commerce Times.
"The key is there are going to have to be fewer [ads], and they've got to be exponentially more relevant than they are in the online world," Chapell noted.
Yahoo's mobile advertising effort coincides with the new Go for Mobile 2.0 search engine that attempts to understand the intentions of the searcher and gives more relevant content. The new search tool also allows users to search directly from maps and news articles.
Yahoo's improvement in mobile search capability is a big step that will help "monetize" the mobile Web, Chapell declared.
Dealing with the small screens of mobile devices is also a problem facing companies that want to run ads on the hand-held units, he added. "It's a challenge, given limited real estate, but they (Yahoo) have some interesting applications there."
Yahoo's move proves that companies wishing to reach customers must seriously consider mobile advertising, Eric Hughes, founder of Jooven8 Marketing and Consulting, told the E-Commerce Times.
"It's becoming increasingly more difficult for advertisers to figure out how to get their messages out," Hughes said. "As we experience these technological advances, it's going to be more and more important for companies to figure out ways to reinvent themselves and deliver this content in different ways. This is just the beginning."
No Spam or Pop-Ups Please
Advertisements shouldn't become a negative part of mobile use if they are inconspicuous and users retain control over when to seek more information from companies running them, claimed Chapell, who is somewhat concerned about the effects of overly aggressive or unscrupulous advertisers.
"As the distinctions between mobile devices and PCs seems to disintegrate, mobile devices are going to run into the same challenges PCs have," he suggested.
"A couple of years ago, there was a lot of scrutiny around pieces of software being downloaded onto computer desktops. It was a challenge to get consumers to understand what they were downloading, and there was software downloaded that might serve pop-ups, change the Internet search engine's homepage, the list of favorites and security settings," he noted. "Once you open the barn to downloading software onto mobile devices, you kind of open yourself up."
If Yahoo and others entering the mobile advertising market can prove it is safe for mobile devices and not overly annoying for mobile users, the market should expand.
"It's going to get better, in many respects," Hughes predicted. "You and I are going to have much more control over the kinds of ads we see and the companies we hear from in real time. It's a burgeoning market and this is just the tip of it."