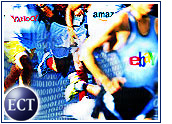 Since launching its European auction site, Yahoo! has continually trailed far behind eBay. Rather than simply conceding to the competition, the company found a more lucrative strategy: It teamed up with its rival.
Under the terms of a multiyear agreement, eBay and Yahoo! Europe will pool their marketing resources to advertise eBay's sites via extensive banner-ad placement on Yahoo's six-country network. Yahoo! Europe's auction site employees will move to the portal's shopping and travel channels.
Yahoo! made the decision at the end of the first quarter, after it became apparent that eBay was so far in the lead that it would take a significant amount of investment just to catch up.
"As they say in the Highlander movies, there can be only one," Rob Rosenthal, senior analyst at IDC, told the E-Commerce Times. "This is a business model that rewards being the biggest, and it doesn't make sense to have more than one or two doing the same thing."
Stumbling Blocks
Even a major injection of euros would not have helped Yahoo! in its attempt to beat eBay.
"In general, the portals in Europe have been under enormous cost pressure, and some have even shut down because of it," Martha Bennett, a vice president in Giga Information Group's UK office, told the E-Commerce Times.
Whereas eBay focused solely on auctions, Yahoo! had multiple services and offerings, which means its resources were destined for depletion.
Bennett said: "Running a portal in Europe is very difficult, because you have to support multiple languages, you have to get resources in every country, and you have to compete with known national players. You can't just take a site from one country and scale it to fit another country."
Bowling for Ad Dollars
The consequences of trying to do too much in too many places worsened for Yahoo! Europe when the online advertising slump hit. It trailed behind not only eBay, but also Amazon.com and XQL Ricardo, a Europe-based auction site.
"There was no way it could win," Bennett said. "Not in that auction landscape. Not with this advertising downturn."
Yahoo! was hit harder than other sites because of its overwhelming dependence on ad revenue.
"When their dot-com advertisers dried up, Yahoo! realized they'd have to diversify their revenue," said Rosenthal. "They ended up throwing a lot at the wall to see what would stick. Not everything did."
Best in Show
Seeing Yahoo! shutter its European auction effort was not a surprise to many analysts. Indeed, the surprise occurred when the Web portal opened the site in 1999.
"When Yahoo! started the auctions, I really did think to myself, 'Why did they do that?'"Bennett commented.
The latest decision to pair with eBay, however, inspires the opposite reaction.
"Now, it seems that they've finally realized that eBay was the best of breed, and it makes sense that they'd want to partner with them," Bennett said.
"It's absolutely a very savvy move," she added. "You don't try to win in a space where there's a clear winner. But if you can do a deal with that winner, then you're well placed."
Despite their competitive spirit in the past, the e-commerce duo now have nothing but sweet words for each other.
Michael van Swaaij, managing director of eBay Europe, said: "Yahoo! will help us extend the eBay brand to new users. In the near term, we look forward to welcoming Yahoo! auction users to our site."