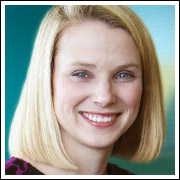 Yahoo CEO Marissa Mayer needs all employees close as she tries to fix the ailing company's problems. That means beginning in June, Yahoo employees who have been able to work from home will be asked to head back into the office, according to a company human resources memo.
Some of Yahoo's most important "communication and collaboration" come from impromptu meetings, discussions between employees and meeting new people around the office, the memo said. It also noted that "speed and quality" were sometimes sacrificed when working from home.
Yahoo did not respond to our request to comment for this story. The company has not released information about the number of its employees affected by the policy change.
Working for Productivity
Telecommuting can have some clear benefits, especially if it is only one or two days per week, said Nicholas Bloom, professor of economics at Stanford University. Bloom recently published a paper on the complexities of working from home.
In many cases it can improve productivity, cut down on long commutes, save the company money and give employees the ability to better manage other non-work aspects of life such as child care. Thanks to mobile devices, video chats and remote-access enterprise platforms, it is much easier to work from home than it would have been ten years ago.
That's not to say it's a perfect solution for every company, Bloom added. While Mayer wasn't very explicit in her reasoning, she may believe that daily team engagement is critical at Yahoo — especially if the work from home policy was being abused.
"Ideally Yahoo would have employees come in for at least three days a week, which provides employees flexibility and home time while keeping them engaged with the office," Bloom told the E-Commerce Times. "Banning all working from home seems pretty extreme, but that may have been necessary to cut loose the employees who were apparently slacking off at home."
Possible Impact on Morale
Mayer's edict has already sparked debate on the comment sections of several media outlets and social media feeds.
Complicating the issue is the fact that Mayer herself is a new mom. Mayer returned to work just two weeks after giving birth, but has also reportedly had a nursery installed next to her office.
"This decision was devastating to her credibility," workplace consultant Brandon Smith told the E-Commerce Times. "Up to this point, she had been seen as a vocal supporter of work and life balance and families. By not only making this decision but by having the extra support she has at work, she runs the risk of being seen as a hypocrite, particularly by female employees."
The overall decision to change the telecommuting policy could hurt in the short-term even if Mayer wasn't a new mother. "This will have a negative impact on the culture and morale at Yahoo," Smith predicted. "Employees will see this as controlling and an overall sign of low trust from senior management. As a result, this will have a negative impact on employee engagement. Expect to see talent leaving Yahoo within the next six months as a result."
Good in the Long Run?
It's more difficult to predict and measure the long-term impact of the new policy, admitted Smith. There are always other top Silicon Valley companies that may allow more telecommuting. If Yahoo's top talent has the option to work elsewhere, productivity could take a hit.
"This was clearly an attempt on Mayer's part to gain greater control of the organization," he observed. "However, almost always when a CEO tightens control, it ends up lowering the sense of empowerment and engagement from employees. As a result, commitment and innovation almost always suffer."
If Mayer can issue this new policy by keeping her existing talent, and only weeding out the underachieving offenders, Yahoo could emerge as a more efficient company, said Lynda Zugec, managing director at The Workforce Consultants.
"I think this will hurt Yahoo morale and loyalty in the short term, but if Mayer's decision removes unproductive employees from the system, Yahoo stands to benefit in the future," she told the E-Commerce Times. "A strong communication plan and structure needs to be put in place for existing employees."
Unfortunately for Mayer, it's difficult to eliminate only the lazy workers, said Bloom.
"In Yahoo it sounds like the work from home policy was being abused, so the impact will be mixed," he said. "Many employees, both good and bad, will leave. Other employees will be demotivated, while yet more employees will work harder by being forced into the office. Frankly, it is a hard call to say the impact on productivity, but the impact on quit rates is clear – a massive clear-out of both good and bad employees will happen."