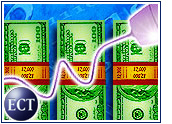 Offering perhaps the strongest evidence to date that Internet companies are poised to enjoy a strong revival, Yahoo beat the Street with third-quarter profits that more than doubled from a year ago.
The latest results bolstered the company's dramatic turnaround story, marking its sixth straight profitable quarter. Yahoo cited a combination of a more diverse revenue stream and a strong resurgence in online advertising spending as reasons for its impressive performance.
The Sunnyvale, California-based portal giant said sales in the third quarter rose 43 percent to US$356.8 million, while profit climbed to $65.3 million, an even dime per share. The results beat Wall Street estimates by a penny on the earnings side and by nearly $20 million on the revenue front.
Clicking Away
CEO Terry Semel, who was brought on board in early 2002 to steer Yahoo out of the dire straits in which it had found itself when the online ad market collapsed, said that although the company benefited from its diversification, nearly 70 percent of its revenue still came from various types of advertising, including paid search listings.
"We delivered strong, diverse and balanced growth," Semel said. "Our business grew stronger and better, and we continue to remain optimistic about the future."
The optimism Yahoo felt clearly spilled over to other online companies, lighting a fire under several key Internet stocks. Yahoo shares powered up 8 percent to $41.68, setting a new 52-week high. EBay and Amazon also posted sizeable stock-price gains in Thursday morning trading.
Why Worry?
Although some analysts have cautioned against an unwarranted surge in optimism about tech and Internet stocks, others point out that some companies are consistently posting both growth and profits.
"Yahoo! is growing profits just as fast [as], or in this case even faster than, it's growing revenues," US Bancorp Piper Jaffray analyst Safa Rashtchy told the E-Commerce Times. "The places the growth is coming from, like targeted search and member services, seem to be areas where growth can be sustained for some time."
Rashtchy also cited Yahoo's ability to improve its profit margins over time, a sign that the company is positioned to sustain profitability even without such strong growth.
Yahoo also upped its outlook for the rest of the year, saying it would post sales of as much as $502 million in the fourth quarter — an increase of nearly 70 percent from last year.
The fourth quarter will be the first to include results from Overture, which was formally acquired by Yahoo on Tuesday. Yahoo said full-year revenue could run as high as $1.46 billion.
"Based on what we've seen, we're comfortable raising our outlook," CFO Susan Decker said in a conference call. She added, however, that the outlook reflects "a much more competitive environment" in the targeted search market.
More People, More Money
Yahoo also said it is enjoying a surge in site visitors. The total number of visitors grew more than 20 percent, to 245 million visitors, during the quarter, while the number of registered, active users also reached record levels.
Although advertising revenue paced the quarter, fees — such as those from Yahoo's premium services and its broadband partnerships with SBC and others — also were up 38 percent, and listing revenue from the company's HotJobs subsidiary and other sources grew 26 percent.