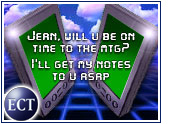 In conjunction with WebEx, Yahoo is now taking orders for its Business Messenger service. The company will host a demonstration of the service during the Instant Messaging Planet Conference October 15th and 16th at the San Jose Convention Center.
Yahoo also announced that two clients already have started using the service, which combines Yahoo's instant messaging (IM) capabilities with WebEx' Web conferencing technology. Those clients are BMC software, a provider of enterprise management products, and Snap-On Incorporated, a developer, manufacturer and marketer of solutions for professional tool users.
The 100 percent managed service will be sold on a yearly subscription basis that includes round-the-clock support and all updates, Yahoo said. Prices for the service start at US$30 per seat per year. Yahoo and WebEx first announced their joint effort last June.
Filling a Business Need
Paul Ritter, program manager for Internet market strategies at the Yankee Group, told the E-Commerce Times that Yahoo Business Messenger is a hosted solution, as opposed to software deployed behind the corporate firewall.
He noted that thousands of companies already have deployed some form of business-class IM solution, most of them with one of the three public network players: Yahoo, AOL and MSN. However, unlike public IM services, Yahoo Business Messenger provides additional features, such as message encryption technology, integration with WebEx' conferencing capabilities, and the ability to authenticate and identify users within a particular company.
"Yahoo is not breaking new ground, but they are providing a solution for certain segment of marketplace others aren't targeting," Ritter said.
Key to Relationship
David Thompson, chief marketing officer of WebEx, told the E-Commerce Times that the key to the relationship between Yahoo and WebEx is that both companies are network service providers. Rather than having to buy and install Web conferencing software, companies can simply subscribe to the joint service.
"We make our services extremely easy and very low cost for small, medium or even large-sized enterprises to adopt," Thompson said. With Yahoo Business Messenger, he added, the two companies can deliver "enhanced real-time communication all across the board, from real-time text messaging to rich visual communication that WebEx enables."
Ritter agreed that significant deployment is not needed to use the new service, which offers a wide range of functionality. For example, companies can conduct real-time collaboration sessions, in which employees send instant messages to colleagues in another office so that they can gain those colleagues' input on proposals for clients.
Smart Partnership
Ritter went on to say that the partnership is synergistic on several levels. From Yahoo's perspective, he said, joining up with WebEx makes sense because WebEx is a much more well-known and established brand in the business sector.
Moreover, the philosophy and technology match is a good one because the two companies' business models are so similar, said Ritter. As a result, Yahoo and WebEx likely can provide a well-integrated solution with a broad feature set.
For his part, Thompson said the synergies between Yahoo's IM software and WebEx' Web-conferencing services are bidirectional in nature. Most obviously, a series of text messages now can morph with ease into a WebEx meeting. Conversely, employees can IM other people, inviting them to join a Web conference already in progress.