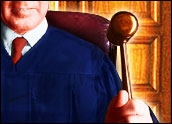 A former employee's age-discrimination lawsuit against Google can proceed now that the California Supreme Court has cleared the way for "stray remarks" made by his colleagues to be included as evidence.
The suit was originally filed in Santa Clara County in 2004 by Brian Reid, who served as director of operations and engineering at Google and is known for creaing the first Internet firewall, as well as other important tech accomplishments.
Reid alleges that his supervisor called him "too old to matter" and that other colleagues referred to him as an "old man" and "old fuddy-duddy." Reid also alleges that Google CEO Eric Schmidt directed a vice president via email to send him a "proposal for getting Reid out."
Google has said that Reid was dismissed for "legitimate, nondiscriminatory reasons."
Important Precedent
The original suit was dismissed on the grounds that Google had a valid reason for letting Reid go. That decision was reversed by the state appeals court, however, on the grounds that the comments, as well as employment statistics at the company, were enough evidence for a discrimination suit to go forward. The reversal was upheld by the California Supreme Court.
It is a pivotal decision for business groups, which had backed Google, as it sets a precedent for comments in the workplace to be included in discrimination suits. Some courts have found that only direct supervisors and corporate executive comments are valid as evidence. The California appeals court reasoned that comments by co-workers could have an impact on top executives — or even mirror their attitudes.
Historically, California employers have relied heavily on the federal stray remarks doctrine in motions for summary judgment in employment discrimination cases, explained Eric Steinert, an employment partner at law firm Seyfarth Shaw.
"Having that doctrine now unavailable in California will make summary judgment more difficult," he told the E-Commerce Times. "As a result, more cases will likely go to a jury, and there will be more pressure to settle those cases. For cases that go to trial, it will become more likely that workplace comments unrelated to the actual employment decision will come into evidence."
As a result, this decision changes the overall landscape for employers in employment discrimination cases, concluded Steinert, where general workplace comments unrelated to the employment decision are used to buttress the plaintiff's case.
The Right Move
It is a good decision, argued Sharona Hoffman, professor of law and bioethics at the Case Western Reserve University School of Law.
"All it does is rule that these comments are admissible evidence, and I think that is the correct move," she told the E-Commerce Times.
"It is unusual in age-discrimination cases where explicit comments are made," Hoffman noted. "Most employers work hard to train their workforce not to engage in explicit discrimination or make the comments that were allegedly made."
So, if there is documented evidence that such comments were made, "it is important to include them," she said.
High-Tech Pitfall?
"With people living much longer and a growing de-emphasis on youth, society is adapting to the realities of the graying marketplace," Raymond Van Dyke, a technology lawyer in Washington, D.C., told the E-Commerce Times. "Nonetheless, some companies desire a younger perspective, as well as a less-questioning work ethic, and will forgo the wisdom of older workers and their prior work experiences."
That attitude seems to permeate the tech industry in particular, Christopher M. Collins, an attorney with Vanderpool, Frostick & Nishanian, told the E-Commerce Times. "You hear in it such phrases as 'cutting-edge or bleeding-edge technology' or 'high-energy firms.'"
A lot depends on the particular tech sector, though, as well as the individual firm. The defense industry, for instance, is not thought to be ageist.
"I haven't found ageism to be a specific problem or big problem in the tech industry among my clients," Collins said. "I think companies are always looking for new ideas, and they realize they can be generated across the age spectrum."
As for Reid's case in particular, Collins didn't have specific knowledge of it, but he offered this observation: "If nothing else, this ruling gives Reid and his attorneys some great negotiating leverage. Depending on what they have, it could be very embarrassing for Google and might prompt the company to settle."