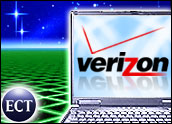 Verizon posted strong financial gains for the second quarter of 2007 Monday, calling out its growth in wireless and high-speed Internet subscribers.
The diversified phone company's net profit rose 4.5 percent to US$1.7 billion, up from $1.61 billion from the same period a year earlier. Verizon's operating revenue rose 6.3 percent to $23.37 billion.
Verizon's primary competitors include AT&T, Qwest and Sprint. In addition to traditional landline and wireless services, the company's key strategic markets are wireless, broadband, data, video and global IP.
"Verizon's strategy of focusing on organic revenue growth and improving margins continues to gain momentum," said Verizon Chairman and CEO Ivan Seidenberg. "Results show that we are producing accelerating — and sustainable — top-line growth across all key markets."
Answering the iPhone
In a second quarter dominated by AT&T's Apple iPhone marketing, hype and press coverage, Verizon picked up 1.3 million new retail wireless customers, bringing its total wireless retail customer base to an industry-leading 60.1 million. Verizon says it also remains the nation's largest wireless company in terms of total revenues and data revenues.
Verizon technically picked up 1.6 million new customers, but due to the bankruptcy of a reseller, could only officially count 1.3 million.
"We think that the iPhone device highlights data services and data capabilities to consumers, and that's good for the whole industry," Bob Varettoni, a Verizon spokesperson, told the E-Commerce Times. "We have a great set of new devices that take advantage of our industry-leading data network."
In the Verizon conference call with analysts, Verizon President and COO Denny Strigl noted that the company did see its porting rate drop as the iPhone hit the market, but he also said that Verizon's porting rates have returned to normal in the last week. "Approximately two customers are in for every customer that we lose," he explained.
Diversification Efforts Paying Off
Verizon has been investing in new high-speed Internet and TV services based on its fiber optic FiOS network. The company added 288,000 new broadband connections, both DSL and FiOS Internet connections, bringing its total broadband connections up to 7.7 million.
In addition, Verizon added 167,000 new FiOS TV customers in the second quarter — about 2,600 per business day of the quarter, Verizon said. The company now has 515,000 FiOS TV customers.
"Verizon quarterly results look strong as they continue to change the company for the new telecom marketplace," Jeff Kagan, a telecommunications industry analyst, told the E-Commerce Times.
"FiOS costs the company a lot of money to create, but this will make Verizon competitive as the competitive marketplace continues to change. The industry is in the middle of a major transformation," he noted. "They are competing against new companies like cable television companies for consumers, and other baby bells and VoIP and data companies for business customers."
On the Business Side
Business-based growth was slower than Verizon's retail growth, rising only 2.4 percent, much of which was driven by stronger sales of strategic services surrounding new IP-related services, which still managed to exceed declines in traditional voice and data services, Verizon noted.
All of the major competitors in the telecommunications industry are facing major product line changes and pressures, particularly as landline-based services are replaced by wireless and VoIP services. Plus, TV, Internet and packaged services are all fair game.
"Going forward, the marketplace position for all these competitors [AT&T, Qwest, Sprint, Verizon] is changing. It's an all-or-nothing game," Kagan explained.
"They are going to be offering a bigger bundle of services, but they will be competing against new competitors. They will have fewer customers, but the customers they win will spend more than before," he added.