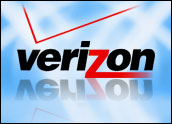 Shares of Verizon soared in early trading Monday on the heels of a published report suggesting that UK-based Vodafone was mulling whether to offer as much as US$160 billion to acquire the U.S. telecommunications giant.
Verizon's stock was up nearly 4 percent Monday after a report published on the Financial Times Web site said Vodafone had held internal discussions about a takeover bid, but had not yet approached Verizon with an offer.
By midday, the shares had settled back considerably, but were still up about 2.5 percent to $42.89.
Just Speculation?
Vodafone issued a statement in which it cited "press speculation" about a Verizon bid. "Vodafone wishes to make it clear that it has no plans to make such an offer," the company said.
The report said Vodafone, which co-owns Verizon Wireless with the New Jersey-based carrier, would seek to spin off Verizon's wireline business, hoping to fetch as much as $90 billion by selling that business to private equity interests.
Verizon declined to comment on the report. Ironically, Verizon has been known to be eager to buy Vodafone out of the joint partnership that the two companies created to form Verizon Wireless.
Vodafone owns 45 percent of Verizon Wireless, a fact that has been seen hampering Verizon's efforts to more fully integrate its menu of services. If it had full control of the wireless assets, and as its FiOS network is expanded, it would be able to offer traditional phone service, high-speed Internet, television service and wireless service in a single bundle.
Taxes and Regulators
A Vodafone bid for Verizon would likely face intense regulatory scrutiny from within the U.S. Foreign ownership of telecommunications firms has always been a concern for regulators, and Verizon provides services directly to government agencies. It's not clear whether selling off the traditional phone business to U.S. interests would be enough to appease regulators and allow a deal to go through.
"Mergers are complicated enough dealing with two U.S. companies," telecom industry analyst Jeff Kagan told the E-Commerce Times. "If the acquiring company is non-U.S., then not only do our regulators look more closely but so do the regulators from the UK. Could it be done? Yes. Is it much more difficult? Yes."
Vodafone may have weighed the takeover as an option for avoiding some $20 billion in taxes it will likely have to pay if it sells its stake in Verizon Wireless outright, whether to Verizon or a third party, UBS analyst John Hodulik told the E-Commerce Times. "They would like to find a way around that liability," he said.
Hodulik agreed that the regulatory bars would be set "extremely high" for such a deal to be consummated. Involving private equity buyers for the wireline side of Verizon's business may only serve to complicate matters, he added, given recent negative attention those firms have received because of tax issues.
Though Verizon stock surged, it appeared investors seemed skeptical about the Vodafone talk. The $160 billion price bandied about would value Verizon at $55 per share and the stock traded only as high as $43.12. Vodafone's U.S.-listed shares were down, meanwhile, falling 35 cents, or 1 percent, to $33.17.
Under Pressure
Even though Vodafone raised the idea, another bid for Verizon, such as a direct takeover by private equity players who could split the company up, is unlikely, Kagan said.
The recent consolidation wave that swept through the industry left a fairly stable landscape, with Verizon and AT&T slugging it out for national dominance along with Sprint Nextel and a few smaller players.
"We have heard over the last few years about Verizon thinking about a similar option of buying the entire wireless business," Kagan said. "But this just shows that all companies are always thinking about tomorrow and continued growth."
Vodafone is under pressure of its own, meanwhile, to divest itself of land-line holdings and focus on the faster-growing mobile business. An investors' group is also pressuring the company to find a way to unlock the value in the Verizon Wireless stake and funnel that money back to shareholders. An investor group known as "Efficient Capital Structures" is pushing for major corporate governance changes and a splitting off of Vodafone assets.
Meanwhile, Vodafone may be on the verge of landing the right to be the exclusive carrier of the iPhone in Europe, though Apple has not made a formal announcement as yet.