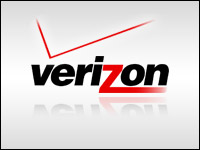 Verizon proved Wall Street right Thursday, just meeting expectations for its second fiscal quarter and bringing in a net income gain of 13 percent thanks to higher-than-expected wireless subscriptions.
The wireless provider earned US$1.83 billion, or 64 cents per share on the quarter, up from $1.61 billion, or 57 cents per share, from the same period a year ago. Revenue increased to $28.5 billion, or 3.7 percent.
The company was weaker on its landline and broadband services, gaining just 2,000 broadband customers on the quarter — its weakest numbers in four years. Verizon said the paltry gain was due partly to the company discontinuing the sale of DSL connections to customers that didn't have a landline.
Enterprise sales were also down, which Fran Shammo, the company's chief financial officer, attributed to foreign exchange rates, Verizon's decision to stop selling certain customer equipment, and the state of Europe's economy.
Countering that sluggish growth, Verizon's wireless services provided the company's biggest highlight, gaining 1.2 million subscribers on the quarter. The wireless provider said its 4G LTE service, which is the largest such U.S. network, available to more than 230 million people in 337 markets, is a big draw over competitors.
Rock Steady
Overall, Verizon had a decent quarter, especially since the wireless provider marketplace is so competitive, said Timothy Horan, analyst at Oppenheimer & Co. The gains that the wireless provider is making in that market will hold the company over while it is working on profitability in its other areas, he said.
"The trends look good for Verizon in wireless," he told the E-Commerce Times. "In enterprise, revenues were pretty down and there may have been some currency and equipment issues there, but overall the trends look really good."
The wireless space is the best place for the company to be strong now, said Horan.
"Wireless is already gaining a lot of share there, and some of these price increases mean earnings should look good for at least the next couple quarters," said Horan.
Betting on FiOS Profitability
Verizon is also raising prices on its FiOS services, which use fiber optics to bring phone, high-speed Internet and HD TV to customers. The company added 120,000 net new FiOS television customers on the quarter, which was slightly lower than expected. The company said that an unusually high number of customers moved out of FiOS regions. The high cost of installing the systems and the lower regional availability could be cutting into overall FiOS gains, said Peter Koeppel, founder and president of Koeppel Direct. However, he acknowledged, the bundle package was an attractive offering for consumers now.
"I would imagine that installing their fiber optic system is costly, so they may have more investment than other providers, which they need to offset through price increases," he told the E-Commerce Times. "They may also be at a disadvantage versus other providers because their service is not as widely available."
To increase profitability, Verizon said it would be raising FiOS prices. In the current television climate, that might be a bet that's worth putting off for later, said Koeppel.
"I think that subscribers are more important right now," he said. "They can always increase prices later. Since Viacom and DirecTV are in a dispute and DirecTV customers can't currently access Viacom networks, DirecTV customers may be looking for alternative options, and FiOS should try to capitalize on this situation and secure some of those customers."
The company didn't return our request for further details.