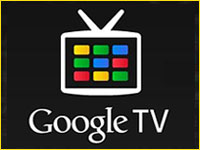 Google is not giving up on its dreams to become a TV star. The company announced Thursday it added LG to its growing list of television partners that will debut hardware running an upgraded version of Google TV at the Consumer Electronics Show next week in Las Vegas.
The search giant's first run at TV, with partnerships with Sony, Intel and Logitech, was met largely with consumer apathy a little over a year ago.
This time around, Google has new partnerships and devices that could offer buyers more choices. LG was added to a roster that includes Samsung, Vizio and Sony. Apparently absent is Logitech, which used to produce the Revue Google TV unit. LG, Sony and Vizio will be showing products at CES next week.
Google also announced partnerships with MediaTek and Marvell, two chipset makers, replacing Intel as its primary chip provider. Though the deals are not exclusive, both make chips at a lower cost than Intel, a company that's recently put its focus on chips for smartphones, tablets and small PCs.
In announcing the presence of Google TV hardware and devices at CES, Google's Mickey Kim did not give any indication regarding when the sets would be on shelves. The company didn't respond to our requests for further comment.
Using Its Strengths
Difficult navigation was one complaint critics lobbed at Google's first attempt at a TV platform, and its been a challenge for many new digital TV interfaces full of content choices, apps and smart features.
"We don't have a good way of finding out what's available for us to watch. The television grid has become unmanageable on a paid TV platform, with 500 channels, on-demand options, and then all the over-the-top content such as Netflix or Web streaming sites. If you look at the numbers of connected TV time that people are watching, it's not just Netflix streaming. There's a lot of long form streaming being watched in the living room, and that's getting bigger, but one of the bottlenecks is an interface problem," Alfred Poor, editor and publisher of HDTV Almanac and analyst for GigaOM Pro, told the E-Commerce Times.
Though Google has significant competition from both hardware and content providers, managing an interface is one area where the company could have an advantage, since it made its name in search and content.
"The problem is there's a lot of information out there, and you need an effective and efficient way that will show you what's available and maybe steer you towards what you'd like and towards information management. And who is better suited to deal with that than Google? They have a lot of horsepower that they can bring here," said Poor.
With its strength from personalized search and ads, Google also has the infrastructure to be somewhat of a personalized TV Guide.
"Google, in terms of handicapping the race, has a lot going for it. I don't know that they're going to be the winner, but they know how to handle enormous amounts of data, including data about the user and how to shape the experience based on what they know about the individual, so I think there's going to be a huge demand for a Google TV-type solution," said Poor.
Crowded Market
Since the upgraded version of the Google TV platform was released in October, Google's Kim said, activation rates have more than doubled. The company worked to make the interface less difficult to navigate and upped the apps and features available, presumably working to create a one-stop shop to draw consumers that go to multiple outlets such as Netflix, Hulu and network sites, or even to music stations or sports apps that update the scores and highlights of the day.
"An important difference between what Google is rolling out now and the first generation is that this one is much more integrated with the Android Market and the app interface. The first was essentially a search engine on your TV, and not very useful, but the new generation is much more an extension of the Android platform. That opens up a lot of possibilities for bringing in developers and allows you to develop multi-screen experiences that leverage Android across phones and now Google TVs and tablets, so that's significant," Paul Sweeting, principal at Concurrent Media Strategies told the E-Commerce Times.
Google is also up against formidable platforms that already have users and infrastructure in place to become integrated digital outlets.
"There are going to be several players offering different approaches to digital platforms in the living room, and Google is going to be one of them simply because they have the resources to do it." said Sweeting.
"But I like the way Microsoft is positioned at the moment," he added. "The Xbox 360 and the Xbox Live platform, along with the Kinect interface, positions Microsoft quite well, if only because they have some 35 million Xbox 360 users out there that could essentially be converted into more integrated devices. They have an enormous potential head start over anyone out there like Google starting from scratch."
Google's not only up against already existing platforms. Though Apple TV remains for now a small black box that simply connects a TV to iTunes and streaming sources like Netflix, each week brings new rumors that Cupertino is prepping to launch a flat-screen Apple TV set.
"Google has had their own stumbles with TV, but the Apple aura zone is a problem, too. Apple doesn't have to make anything, but everyone is convinced there is one, so rumors about anything that has a lower case 'i' in front of it has legs in this race," said Poor.
Once these next-generation devices hits the shelves — and it's still unknown when that will be — consumers, investors and TV aficionados will have a better idea if they're witnessing a new wave of television.
"Whether or not that's going to be Google, I don't know, but we're seeing that consumers are taking advantage of the whole over-the-top access, and somebody is going to benefit from that, and Google is in a good position here," said Poor.
If nothing else, Google at least has its foot in the door to a promising market shift in the way people consume media.
"The market is in a very early stage, and it will become ready and it makes sense for a platform provider to want to be in there early for competitive reasons. I don't expect that they're going to see huge sales in 2012, but the market is certainly moving in that direction," said Sweeting.