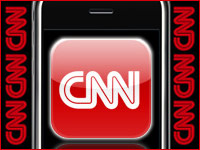 Reports are circulating that CNN is finalizing a US$200 million deal to acquire the social news and technology website Mashable.
CNN has been looking to match CBS' acquisition of Cnet for at least three years, said Rob Enderle of the Enderle Group, but network officials were unable to reach an agreement on a property until now.
"They want something that is more social, more trendy, and has a bit of technology edge," he told the E-Commerce Times, "because CNN is bleeding viewers, and advertising revenue appears to be suffering."
If the reports are true, the deal would join the growing list of acquisitions in the tech and social media news space. There was, of course AOL's acquisition of The Huffington Post last year for $315 million and AOL's acquisition of TechCrunch in 2010. More recently, GigaOm announced it was acquiring paidContent.
Mashable has strong street cred, despite its humble beginnings as a one-writer shop founded by Peter Cashmore in 2005.
'Young and Fast-Paced'
CNN actually could be the unequal partner in this deal in terms of social tech savvy.
"Mashable is young and fast paced in the way that it approaches reporting, and the acquisition by CNN could potentially represent an attitude from the network toward innovation and looking to evolve their market share," Brendan Kownacki, director of strategic innovation at Merge Creative Media, told the E-Commerce Times.
"CNN most likely views Mashable as a progressive brand that can help elevate their position in the young, tech-savvy newshound audience that gets their news online, on TV, and on platforms like Twitter — and with the addition of Mashable, they can penetrate and take hold of this user base," Kownacki said.
As an added bonus, Mashable's interactive approach to reporting might find its way into other areas of CNN, he suggested. "We see so many dynamic stories covering the tech and social media world, with Mashable providing great examples — and these involve videos, infographics and in-depth reporting."
By joining CNN, Mashable could bring the same explosive attitude to the foreign affairs, politics and business stories CNN covers.
Focus on Tech
More likely though, CNN will want Mashable to focus on what it does best — tech news.
"Mashable is a strong property on the leading edge of the blogosphere with a strong talent base, particularly since they have Lance Ulanoff, one of the best-regarded editors in tech," Enderle said.
The danger will be that CNN somehow hurts Mashable's brand, Enderle added, "as acquisitions like this rarely go well — particularly when the acquiring company doesn't do them that often."
TechCrunch, for example, has experienced an exodus of talent since its acquisition by AOL.
However, the efforts CNN has made to evolve its reporting and business model are evidence that it is seeking out something new, Kownacki said, and not a property that it can force into its own historical corporate mold.
"CNN has grown in the past years by sourcing stories and user comments from social media platforms, and has encouraged their audience to join in the conversation by posting, tweeting and sending in comments," he said.
"The iReport program from CNN also helped to launch an activist attitude with citizen journalists that may have sparked the mindsets we saw in the Arab Spring last year," Kownacki pointed out.
CNN needs to do everything it can to establish itself in the digital world beyond cable, Paul Levinson, professor of communications and media studies at Fordham University, told the E-Commerce Times. "Mashable is the go-to source for news and commentary about what's going on in the social media world. With Mashable under the CNN umbrella, CNN instantly becomes sage and relevant to the daily evolution of new media and apps that are increasingly part of our lives."
CNN and Mashable did not respond to our requests to comment for this story.