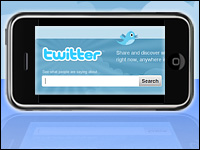 Management troubles! Foolish business decisions! Still no monetization platform of note! All of this is old news about Twitter, but it seems as though reports about these issues have been proliferating lately, both in volume and in detail.
The latest barrage started with an article published in BusinessInsider describing the company's early tumultuous management days — an era that ended with the unceremonious departure of one of the founders, Noah Glass, who was said to have been treated badly by Evan Williams.
Fortune published additional details about the game of musical executive chairs being played at the company, starting with erstwhile CEO Jack Dorsey's return as product chief. After having been demoted by the board, he had left to found the successful payments company, Square. In the interim, Williams and operating chief Dick Costolo alternately assumed Twitter's helm.
Not for Sale
Fortune also mentioned that Twitter had turned down a US$2 billion offer from Facebook and an eye-popping $10 billion offer from Google. It is unlikely that Facebook will counter — CEO Mark Zuckerberg is said to have become disenchanted with the microblogging site after years of obsession over its next move.
Twitter's rejections of those offers were pretty gutsy — and in the eyes of some investors, stupid — considering that it only posted $45 million in ad revenues in 2010, according to eMarketer.
There appears to be a Twitter media frenzy in the making, with Twitter being cast in the role of the next MySpace — that is, a high-flying tech site destined to fade into obsolescence.
Twitter, which did not respond to the E-Commerce Times' request for comment on this story, no doubt would consider all this much ado about nothing — and might accuse the media of magnifying problems that are not that relevant to its long-term viability.
The truth most likely lies somewhere between these two extremes, said Paul Levinson, a communications and media studies professor at Fordham University.
Weakest of 3 Legs
"Twitter is not going to go away or fail," Levinson told the E-Commerce Times. "It is much more important than MySpace ever was, even during its heyday."
Essentially, Twitter is one of three corporate legs that make up the current social media environment, he said — the other two being Google's YouTube and Facebook.
Yet Twitter is clearly the weakest of these three legs, Levinson noted. "In terms of corporate control and direction, clearly Twitter has some improvement to make, especially when you compare it to the other two companies. Zuckerberg has done spectacularly well guiding Facebook and keeping it focused."
While Google has had its share of management shuffles lately, there is little doubt that the company's management is in strong control of its direction.
Sooner or later — and it will probably come sooner — something will have to be done about the guidance and control issue at Twitter. Levinson predicts that within two years, or at the latest five, the slate of managers will be entirely different than the current one.
Dumb Decisions?
Might the rejection of $10 billion from Google — assuming that account is true — facilitate this process?
The hype over this is mainly coming from the investment community, which in general hates to see valuations for any company rise too high, said Michael Hussey, CEO of PeekYou.
"I am sure Twitter's investors are saying they can get their money back in multiples if Twitter were to sell right now, but Twitter wants to realize its vision," Hussey told the E-Commerce Times.
Hussey is of the opinion that Twitter is stronger than ever. "I don't know why people are questioning Twitter's long-term strategy. In terms of what they are doing now they have never been more important. There is simply no other company out there that offers the same service."
He too likened Twitter to one of three legs supporting the social media ecosystem, with each company strong in its own way. "Google's competitive advantage is it knows what you are searching for. Twitter knows what is on your mind right now, and Facebook is more of a static picture of who a particular person is and what he or she likes."
Teething Problems
The ad revenues will come, said Hussey. "Twitter continues to roll out new tools for targeted advertising. It is getting there."
Everyone has teething troubles, is how John Cass, author of Strategies and Tools for Corporate Blogging and the PR Communications blog, put it.
Twitter's ad opportunities hold good potential for the company and would-be advertisers, he maintained. "I actually chatted with their ad folks in the last few months, and though I did not go with the opportunity, I think it is well worth the effort of trying Twitter advertising. I'd expect to see more revenue this year."
In all the fuss, add Cass, Twitter's stealth strength has been overlooked: "The big thing with Twitter is that it's all about mobile, and they are still the leader there. It's a much bigger market than desktop."