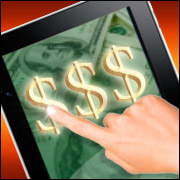 Google is planning to compensate users for letting it monitor their behavior via a mobile app currently in development. The project is part of Google's Screenwise market research program, which was launched about a year ago, Google spokesperson Andrea Faville told the E-Commerce Times.
"We conduct this research with small panels of volunteers to see how people are consuming media across screens," she said.
This specific app "will only be accessible [and] work for panelists that have already signed up with us to participate," Faville added.
Dubbed "Mobile Meter" internally, the project uses both iOS and Android apps to monitor participants' app usage and Web browsing habits and then send that data back to Google, Engadget reported.
Observational Mode Only
Companies routinely use observational projects such as Mobile Meter, of course. For example, store loyalty cards provide companies with a great deal of information about customers' marketplace behavior in return for coupons and other rewards, noted Sertan Kabadayi, associate professor of marketing at Fordham University.
With Google's project, "this model is being applied to the mobile setting," he told the E-Commerce Times.
It is clear that Google will be reaping some valuable information about real-time user behavior from the apps. This information could be used for segmentation-targeting purposes, in the app design process, or in creating promotional offers, Kabadayi said.
"One of the problems that many companies face with regards to consumers' mobile behavior is that they do not know how to measure the effectiveness of their mobile apps," he pointed out.
A better understanding of which links a consumer clicks or doesn't click, for example, would be invaluable, Kabadayi noted.
Consumers benefit from more customized offers and directions for their mobile browsing, as well as whatever compensation Google is offering for study participants, he pointed out. "It seems that Mobile Meter could benefit both consumers and companies."
Looming Privacy Issues
In the background hovers the question of privacy. It is safe to guess that Google may roll out some variation of these apps to the general public at some point in time. Presumably they will be made available under an opt-in model.
Many consumers may blithely sign on for the benefits — even people who would hesitate to take part in a similar initiative for the desktop, Dan Roche, VP of marketing at TalkPoint, told the E-Commerce Times.
"I am continually surprised that users will allow so much more intrusion on their mobile device that I imagine they would never allow on their home desktop or laptop," he said. "People need to enter these situations with their eyes wide open regarding the information they are agreeing to let Google access."
Online Privacy Is Dead
Many consumers made those calculations a long time ago, though, and dismissed them as fruitless concerns — assuming they wanted to stay online.
By now it is clear there is little privacy on the Web and that companies track online activities as much as possible, Sang Nam, associate professor of communications at Quinnipiac University, told the E-Commerce Times.
People who sign up to services such as Facebook generally give away much of their right to privacy when they click the Yes button on the terms and conditions to join, he said.
There are still plenty of people concerned about their privacy, Nam added, but they are fighting a losing battle.
"Whether you like it or not, this very activity of your reading this article online is monitored. You leave your digital footprints anywhere you visit online. Google wants to collect these digital footprints and pay you. I would say, 'Why not?'"