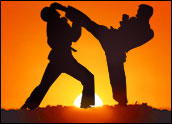 The long-awaited unveiling of the iPhone 5 may not be the only Apple news in circulation. Also expected to make headlines Wednesday will be the news that Samsung is filing suit against Apple in Europe and the United States for infringing on several patents it holds relating to LTE.
Samsung has decided to take immediate legal action, The Korea Times reported Tuesday.
Apple, as usual, has said little about the features that will be available in the iPhone 5. However, it is widely expected that it will be equipped with LTE functionality.
Almost a Certainty
Apple will almost certainly provide LTE in its new iPhone, Rob Walch, host of Today in iOS, told the E-Commerce Times.
However, that will not be of much use to Samsung, he added, because its LTE patents are subject to FRAND terms.
"Apple buys chips that have a license for that technology. What Samsung is trying to do with this suit, if it is really going to sue, is double dip," Walch said. "Every time they have tried that, they have been shot down."
These are industry standard essential patents, he concluded. "That means Apple won't even have to pay the license because it bought the chip."
This move has been tried before with Apple — and failed, Walch noted. "A few years ago, Motorola Mobility tried it with 3G and Apple's use of that technology. Same story. It came to nothing. "
More Information Needed
If the patents involved are indeed subject to FRAND, then Apple probably will have little to worry about, David L. Newman, attorney at Arnstein & Lehr, told the E-Commerce Times. However, without knowing the specific patents Samsung is targeting — or which of its own patents it alleges have been infringed — all bets are still on.
"There have been previous lawsuits in which Samsung sued Apple over LTE patents, and it was my understanding that those patents were involved in standards," he recalled, "and because of commitments Samsung made during standard promulgation processes, it requires them to offer FRAND terms."
In general, Newman said, anything involving a FRAND patent is less likely to receive an injunction — and that is the case in legal venues around the world.
"If these are FRAND patents at question, Apple might well take a suit alleging infringement more lightly because it is not likely to be forced to stop selling the iPhone," he explained.
Global Legal War
The patents in question in the recent trial in the U.S. — in which the jury found Samsung had infringed Apple's mobile design and interface intellectual property — were not standard essential patents, Newman observed.
"Apple can and will pursue an injunction in that case," he said. "That is a huge pressure point that Samsung may not have if the LTE patents it is supposedly targeting are standard essential patents."
However this particular legal battle plays out, it will only be one piece of a multijurisdictional and multi-issue legal war between these two companies. The U.S. ruling delivered a harsh blow to Samsung, as it was accompanied by a US$1 billion judgment. Even though Samsung has said it will appeal the U.S. ruling, it still is viewed as a setback.
Cases are pending in other venues — for instance, Apple is taking its fight directly to Samsung's home market of South Korea with a complaint to the country's Fair Trade Commission that Samsung is abusing its position in the wireless technology market.
Also, Samsung has chalked up victories of its own — it so far has managed to stave off legal challenges in Europe and recently won a round in Japan.
Apple and Samsung did not respond to our requests to comment for this story.