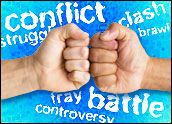 Another day, another charge that Microsoft has violated its consent decree — or so it must seem to the software titan, which has been battling such accusations ever since the mega antitrust case against it ended in 2002.
In the latest controversy, though, the company lodging the complaint is none other than Google, an adversary almost equal to the European Commission, which has been lobbing the most successful — and costly — complaints at Microsoft.
Google has not openly accused its adversary of making it difficult for third-party search engines to be used — and more importantly, replaced as the default — in Microsoft's recently released operating system, Vista. Those charges were reported by The New York Times on Sunday, based on a leaked memo written by a Department of Justice official. The memo urges state attorneys general to disregard the claims levied by Google.
Google's complaint has not been made public, so it is difficult to evaluate the accusations and Microsoft's response. However, based on the players involved and on Microsoft's history — not to mention the Bush Administration's track record on antitrust enforcement — it is safe to make at least some assumptions about the charges and how this particular chapter in Microsoft's desktop dominance story may unfold. In no particular order:
1. Google is aiming for maximum advantage in the fight to build a better product.
Google may be a relatively young corporate entity, but it is hardly nave. "In the broader context, this is all about strategy and competition between two companies," Ted Henneberry, cochair of the European Practice Group at Heller Ehrman, told the E-Commerce Times.
Until now, using government agencies to gain an advantage has been a tactic of primarily European competitors. If Google went public with this by leaking the story to The New York Times because the Justice Department did not agree with its arguments, then it appears it's willing to up the ante by making this political, Henneberry reasoned.
"There is a working committee set up under the settlement decree that looks at these issues," he said. Justice has been following Vista; indeed, the committee had suggested structural changes to the design before it was released to make it more open to third-party vendors. "The Department of Justice's mission is to protect access to the market — not to protect competitors. If someone else builds a better mousetrap, so be it."
Microsoft has a big advantage, agreed Keith Hylton, a professor at Boston University School of Law, because it owns the desktop — and that isn't a violation of antitrust laws.
"It would be a bad policy to prevent Microsoft from improving its product," he told the E-Commerce Times," adding that if a rival wants to compete in that market, it certainly can, but it should recognize that it is at a disadvantage.
"Moreover, I think government authorities should be reluctant to enter into that battle, since doing so would be equivalent to treating Windows as a regulated public utility. Antitrust courts have tried to stay away from this approach for the most part," Hylton concluded.
2. The winner will be whoever has the better expert.
"If one of the state attorneys general take this on, the case will be decided based upon expert testimony," Ruth Dowling, partner and cochair of the antitrust practice group at Edwards Angell Palmer & Dodge, told the E-Commerce Times.
"The Department of Justice has taken the position that it will not investigate [Google's claims], but there are state AGs that are likely to do so," she pointed out.
The critical questions will be whether it is, in fact, difficult to replace Vista's search engine default with another company's product. "That is on what the claim hinges," said Dowling. "If it is easy enough to do, then it will be hard for anyone to find that Microsoft has violated the decree."
It's "curious" that the Department of Justice has indicated it is not interested in pursuing this matter, while state agencies that hold similar goals are coming to different conclusions, Dowling remarked. Among other possibilities, this discrepancy points to conflicting opinions among experts about the claims.
"The feds are talking to some experts — the states are talking to others," she said.
3. The states hold the cards.
In general, interpretations of state laws are supposed to be consistent with federal statute, Charles Hosch, partner with Strasburger & Price, told the E-Commerce Times. However, should a state investigate and eventually find Microsoft guilty, the company would have a significant problem selling its products there. Also, other attorneys general could jump in if there were a guilty verdict elsewhere.
"Microsoft is something of a hot button, and the more camera lights there are, the more attractive an enforcement priority it becomes," Hosch said.
State AGs were very active in the original case, Phillip Zane, counsel with Baker Donelson, told the E-Commerce Times. Because they are not as closely connected with Vista's development as the working committee — which has been involved with it since its beginnings on a whiteboard — they are thus less likely to view it as fundamentally compliant. "For this reason, Google is also more likely to view Microsoft as noncompliant — it was not part of the committee either," Zane said.
4. Google might do better to launch a new case.
The standard to prove that Microsoft is in violation is quite high, Zane noted. "It would be difficult to show a violation. If Google believes it has a legitimate problem with Vista, it might have more success in challenging Microsoft on these issues rather than going through the decree."
One possible argument, Hosch suggested, is that the end-user market is subdivided by, well, competence.
"The IT cognoscenti doesn't have any trouble putting Google on Vista's desktop," he explained, "but the average person — a group in which I include myself — might very well. At some point, the question should be raised: Are we talking about one group of end-users or several, depending on their level of ineptitude?"