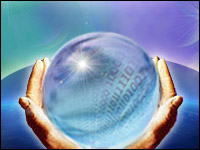 Mary Meeker, aka the "Queen of the Internet" and one of Kleiner Perkins Caufield & Byers' star analysts, has issued her latest report on Internet trends. The 117-slide presentation is more of an opus than a typical report, providing a wealth of data on current digital trends and the direction they are heading.
Mobile and social media play a dominant role in the reports; Meeker slices and dices these categories in multiple ways, from identifying significant untapped opportunities for mobile advertising — a US$20 billion industry — to pointing out the huge growth potential for social networking in various countries around the world.
She also touched on growing concerns about the sharing of personal data online and the rise of wearable computers and other new form factors.
Given her visibility, Meeker has her fair share of both fans and critics. Some argue that her estimates, especially concerning mobile growth, are too conservative; others say that she is emphasizing wearable computing over another more important trend — the Internet of Things. Then are those who argue the two latter trends are basically the same thing, and that Meeker should have explained that better in her report.
In short, there is no lack of criticism, both constructive or otherwise, of her projections.
Too Conservative for Mobile
Meeker's projected numbers for the increase in mobile traffic are too conservative, said James Lamberti, general manager and vice president of AdTruth.
"Not only are we seeing a tremendous growth in mobile phones, but as she noted, tablets are also growing like wildfire, roughly three times faster than the iPhone," he told the E-Commerce Times.
"More importantly, Mary is right that the mobile ad market is largely untapped," Lamberti said, adding that the irony of that $20 billion opportunity is that many marketers are skeptical it exists.
Wearables Tech
Many people have also seized on Meeker's predictions about wearable computing.
"What she got right was that this will be the next big cycle of computing," Ben Foster, SVP and digital strategist for Ketchum Digital, told the E-Commerce Times. "While people might be making fun of things like Google Glass, we are already seeing the marketplace bear this out through the Nike Fuel Band, the Pebble Watch — and Google Glass."
What Meeker didn't discuss — but what Foster is closely watching — is the software developed for these devices. If there is another 10 times increase over the previous generation of devices, as Meeker predicted, "then entire companies or even industries could be completely disrupted as people no longer need traditional watches, alarm clocks or text messaging services," he said.
Meeker didn't delve much into why wearables represent such a ripe target, said Gene Signorini, vice president of mobile insights at Mobiquity.
The trend will be fueled by more than just consumer demand, he said.
"One main reason we will see wearables begin to proliferate is because they provide a new revenue stream and ecosystem extension for the existing mobile powerhouses," Signorini told the E-Commerce Times.
"Apple wants to extend additional hardware sales and increase stickiness in its ecosystem," he continued. "Google wants to extend information access out to more and more endpoints — and chip makers such as Qualcomm want to extend their addressable device base to things beyond smartphones. The mobile ecosystem is economically driven to make the Internet of Things a reality, and wearables are an obvious area in which to invest."
The Internet of Things
Meeker should have made stronger linkages between wearables and the Internet of Things, according to Guido Lang, assistant professor of computer information systems at Quinnipiac University.
She overlooked a major trend by giving short shrift to the Internet of Things, he told the E-Commerce Times.
"The number of things connected to the Internet already exceeds the number of people on Earth," Lang noted. "There are literally millions of devices equipped with sensors that are constantly sending information."