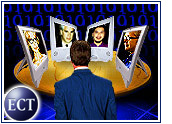 A few years ago, it seemed that the CIO position could be filled by a wide range of managerial types, ranging from tie-wearing executives to young creatives who favored jeans and sandals.
These boom-era CIOs were called on to implement creative strategies, especially at dot-coms. They also were asked to hire more IT staff and to run a tech-focused shop that could churn out Web sites and lay the groundwork for future initiatives.
If a CIO happened to spend a huge chunk of money or ran the IT and IS departments like separate countries that allowed few visitors, he or she was considered good — even visionary.
Times have changed. In today's cloudy economic climate, IT departments are seeing the rise of a new type of executive — one who can merge technology with business.
"The rules have changed for what a CIO does," Forrester Research analyst Bobby Cameron told the E-Commerce Times. "So, what makes a great CIO has also changed.
"In the past, the technology guys would tell the business guys what they were going to build," Cameron added. "It's still that way in some companies. Having different plans creates an amazing amount of contrariness in companies. But that's not the way it has to run."
Change Machine
With budgets growing ever tighter, companies are looking for CIOs who do not run an independent operation. In other words, new-school CIOs know that attainment of greatness is dependent on old-style integration.
"The new, great CIOs run a services business and maximizes efficiency of resources," Cameron said. "They have to be adaptive and flexible. Most of all, though, that person is expected to have a tightened [operational] focus."
For example, executives who understand that the IT department must operate in sync with other departments have begun to outsource some traditionally tech-related duties.
"I have seen CIOs push out the responsibility for procurement and even some of the operations," Cameron noted. "They keep R&D and maintenance, because those fall into the services component of the job."
Justify Your Existence
One quality of a great CIO that has not changed is the ability to defend a company's technology vision, even if doing so means battling other executives.
Forrester Research analyst Harley Manning told the E-Commerce Times that companies that succeed in the e-commerce arena often have a solid executive champion.
"You've got to have someone who can deflect some of the monkeying around being done by other executives," he said, referring to the interplay between IT and other departments. "You have to have someone who has strong skills, but at a hands-on level."
More Suit Than Sandals
As companies' technology services become leaner and more geared toward relating well to other business areas, great CIOs will find themselves drawing on their business skills more often than in the past.
And Cameron noted that in an atmosphere of increased outsourcing and service provision, CIOs will need to stock their departments differently.
"My expectation is you'll see shops having fewer techies as a percentage of staff," Cameron said.
He predicted that there will be more business analysts, project managers and third-party relationship managers in IT departments. To lead them, a CIO will have to display old-fashioned management qualities. Rather than creativity, ambition and technical expertise, CIOs will have to draw on dependability, efficiency and accountability.
"Forget what you're seeing right now — this short-term recession behavior," Cameron said. "A great CIO's qualities, like flexibility and adaptability, will be a constant for the future."