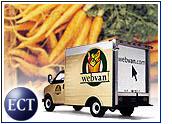 Internet delivery service Webvan (Nasdaq: WBVN)announced Tuesday that it is exiting the Dallas, Texas market in a bid to conservecapital and bring its other regional areas of operation to profitability.
The Foster City, California-based company also said that approximately 220workers will be laid off as a result of the closure.
"While we regret the impact this decision has on our employees and customersin the Dallas area, we firmly believe that this is a necessary and rightstep for the long-term viability of Webvan," said Webvan chief executiveofficer George T. Shaheen.
Shaheen said that Dallas was the company's least developed but mostcompetitive market.
"Given these dynamics, gaining the necessary customerbase to bring our Dallas operations to profitability within our strategictimeframe would require a large investment in marketing and workingcapital," Shaheen said.
According to Shaheen, the company's resources can be "more effectively andefficiently utilized" in its nine other markets, where the company's services are better established.
Although Webvan entered the Dallas market through its acquisition ofHomeGrocer.com in September, online service in the area had notbeen converted to its parent company's technology platform or businessmodel.
Rough Road
Webvan has so far managed to survive the shakeout in the Net grocersector, but not without constant challenges.
In its fourth-quarter earnings report, released last month, Webvan said that it had sufficient capital to fund operations through 2001, butacknowledged that it is running out of money.
In order to fund its 2002operations, Webvan said it would need to drum up an additional US$40million to $60 million by the end of the year.
Additionally, the decision to abandon Dallas comes one week after Webvan's founderresigned from the company's board of directors.
Delays and Allegations
To cool its cash-burn rate, Webvan revamped its business plan for the year,saying it will focus on growing its markets to the point of profitability,completing the integration of HomeGrocer.com, and reducing annual corporateand operating expenses.
As part of the strategy shift, Webvan has also delayed planned expansionsinto new territory, announcing in January that it was indefinitely postponing thecommercial launch of its service into northern New Jersey, Maryland andWashington, D.C.
In addition to cash-flow problems, Webvan has also had union problems.Earlier this month, the Teamsters and the United Food and Commercial Workersfiled a National Labor Relations Board grievance, charging that Webvanillegally restricts organizing activities. At issue are personnel policiesthat allegedly prohibit employees from wearing pro-union buttons andrestrict their ability to communicate and hold union meetings.
Stock Slumps
Webvan stock has also languished in recent months. Webvan shares are trading in the 30-cent range, placing it at risk of delisting by the Nasdaq. The 52-week high for the stock is $16.12.
Moreover, after Webvan's fourth-quarter earnings warning in earlyJanuary, several investment banks issued downgrades on the company's stock,and reduced earnings and revenue expectations.
For the fourth-quarter ended December 31st, Webvan posted a loss of $109.1million, or 23 cents per share. By comparison, the company's loss in the sameperiod a year earlier was $56 million, or 15 cents per share.