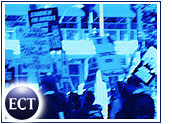 Amid labor strife at well-known e-tailers Amazon.com and Webvan, another target of unionization in the dot-com world, consumer electronics site Etown, announced this week that it was laying off its entire staff of around 100 employees and closing down its Web site operations.
The news only adds to the number of industry observers asking this question: Are unions responsible for the struggles of online businesses, or do e-tailers only have themselves to blame for the dot-com union movement?
"When the dot-coms were flying high, and it looked like options were going to make employees wealthy, there was no reason to think organizing would bring them anything," Jeff Miller, spokesperson for the Communications Workers of America (CWA), told the E-Commerce Times.
"But as things kind of went south, employees started getting together to figure out how to have more say and power in dealing with the employer," Miller said. "That's a natural reaction."
However, John Challenger, chief executive officer of job outplacement firm Challenger, Gray & Christmas, told the E-Commerce Times that unionizing can be the factor that puts a dot-com over a cliff.
"These companies as startups are in a precarious position to begin with," Challenger said. "Investors are sitting on the fence on whether to put in more money. Unionization can often be the blow that sends the dot-com over to closing the operations down or cutting way back."
The reason for the threat, Challenger says, is the high costs that come with unionization.
Picking on Dot-Coms?
"Unions fight for higher wages, more job security, better benefits, as they should," Challenger said. "But in a startup, companies are trying to hold those to a minimum, and that's a risk that employees going into startups need to take into account."
Challenger added: "Attempts at unionizing in dot-coms are unrealistic. There are many areas in the economy that are much better targets for unionizing."
According to Miller, unionization historically occurs more often in a mature, established company, and a company in turmoil typically does not lend itself to unionization. However, he does not accept a conclusion that unions are to blame for the financial troubles of dot-coms.
"At least as far as the new economy companies we've been involved with, that doesn't hold up at all," Miller said.
More Union Troubles
The debate is pertinent because in the wake of falling stock prices and revenues, Etown is not the only e-tailer to face pressure from union organizers.
Webvan has also had seen union activity in its shop. Earlier this year, the Teamsters and the United Food and Commercial Workers filed a National Labor Relations Board grievance against the Internet delivery service, charging that Webvan illegally restricts organizing activities.
Webvan, however, has bigger problems on its hands. For the fourth quarter ended December 31st, Webvan posted a loss of US$109.1 million, or 23 cents a share.
Meanwhile, Web giant Amazon, which laid off 1,300 employees last month and was downgraded to a "sell" rating Thursday by a Prudential Securities analyst, has come under increased pressure by union organizer WashTech, which helped stage a brief employee walkout last week.
Amazon employees were said to have voiced complaints similar to those at Etown, including that mandatory overtime, schedule changes with no notice, and minimal time off during the holidays added pressure to a workplace that was already tense.
Tumultuous Events
In making the announcement about Etown, company CEO Robert Heiblim said that lack of financing was the primary reason for the shutdown. All assets of the consumer electronics provider have been turned over to Best Buy.
News of the closing came a month after an Etown union vote was delayed. Organizers charged that Etown had acted unfairly by telling employees that unionizing would harm its business and possibly force the company to shut down.
The union, however, which is affiliated with the Communications Workers of America, is alleging that Etown had initially laid off the employees who supported union activity.
Cause or Effect?
The unfair labor practice complaints were dropped the first week of February, however, and the National Labor Relations Board had begun talks with both sides to reschedule the election.
Both Heiblim and union organizers denied that the closing was a result of employee attempts at union organizing.
"I don't think there's any connection between the union organization effort and their problems," Miller said. "To the contrary, it was about the time the company was having problems and in the midst of cutbacks that the organization campaign got underway. It was the condition of the company that prompted employees to have more of a dialogue with management."