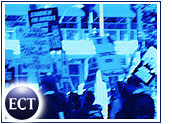 Collaborative Media, Inc., which last week became the first e-commercecompany to face a union vote by its workers, said Friday it would release 28 of its127 employees, or 22 percent of its workforce.
According tocompany president and chief operating officer Lew Brown, the decisionwas made two weeks ago and was unrelated to the union effort.
"Due to ongoing pressures from our investors and the generally poorcondition of the financial marketplace, we are compelled to accelerate ourpath to profitability," Brown said.
Brown also noted that the San Francisco, California-based company,which operates Etown.com and ShopAudioVideo.com, plans to shift its focus tobusiness-to-business (B2B) e-commerce and away from consumer e-tailing.
Bad Timing
Union representatives questioned the company's motives and the timing of the staff cuts.
"We find this highly suspicious," said Bill Wyland, organizer for theNewspaper Guild-Communications Workers of America, which is assisting Etown employees with their union effort.
"We're going to investigate this to the fullest extent of the law,"including filing charges with the National Labor Relations Board, Wylandtold the E-Commerce Times.
The union has already filed charges over thefirings of four workers that were behind the union drive.
Forward Drive
"We're going to pursue with the election whether they reduce the size [ofthe company] to five people," Wyland said. In fact, the company'sactions might invigorate the remaining employees and help the union effort,he said.
Nearly half of workers slashed — 13 of the 28 job cuts — were in Collaborative Media's customer service department, the division behind the unionization push. Workers were let go "based solely" on length of time with the company, with the newestworkers fired first, Brown said.
Closed Doors
On November 27th, the Newspaper Guild-Communications Workers of America filed a petition with the NLRB seeking an election, after getting approvalfrom about 70 percent of the 36 customer service representatives at Etownand ShopAudioVideo.com.
The company said Friday it closed the ShopAudioVideo.com division, resultingin the layoffs of five workers.
The workers said they were looking for better pay, more job stability andclearer definition of their responsibilities, among other things.
"In order to fulfill our long-term vision for Etown, we need to sharpen ourfocus on our core businesses of creating and licensing consumer electronicscontent and scale down our costly consumer operations," said Brown.
Brown also said those behind the union effort are "misrepresenting"conditions at the company, saying some disgruntled former workers "areinstigating current employees."
Union Struggles
In a separate union drive, employees at e-tail giant Amazon.com are also gathering signatures for a unionpetition, hoping to use the busy holiday season to gain publicity and buildsupport for their cause.
The union efforts, however, come at a hard time for e-commerce companies, with many struggling to raise cash and keep up with expenses as the industryendures a shakeout.