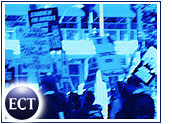 Workers at Etown.com and ShopAudioVideo.com will become the first dot-com employees to vote on whether to have union representation.
The Newspaper Guild-Communications Workers of America filed apetition with the National Labor Relations Board (NLRB) on Monday seeking an election, after getting approval fromabout 70 percent of the two companies' 36 customer service representatives. Under NLRB rules, an election is required if 30 percent of the employees ask for one.
"Workers, whether new economy or oldeconomy, have the same issues, " local union representative Erin Tyson Poh told the E-Commerce Times.
Voicing Concerns
Among the issues the employees want addressed are job stability andsecurity, clear job descriptions, better pay and a voice inworkplace decision-making, Poh said.
The vote is expected to take place followinga December 6th hearing before the NLRB.
Steve Ramirez, vice president of marketing at Etown, said company officialsstill have not seen the petition and therefore are not able to comment onspecifics. "We're operating a little bit blind here," he said.
"The issue of a union is obviously up to the employees," Ramirez told theE-Commerce Times. "We're going to continue with our standard practice [ofbeing] open to employee input. We have had a really successful open-doorpolicy."
Etown.com, an Internet-based home electronics reviewer, andShopAudioVideo.com, a home electronics e-tailer, are affiliates of SanFrancisco, California-based Collaborative Media, Inc.
Amazon Pressure
The announcement should give heart to customer service workers at Amazon.com (Nasdaq: AMZN), who are hoping touse the busy holiday season to build support for their proposed union. Workers at the Internet giant are busy gathering signatures to call a union vote.
The drive is targetingcustomer-service workers at the company's Seattle, Washington headquarters, butorganizers are also reaching out to distribution and warehouse workers inother parts of the country.
Amazon employees have voiced complaints similar to those at Etown, sayingthat mandatory overtime, schedule changes with no notice, and minimal time offduring the holidays are adding pressure to a workplace that is already tense.
Additionally, Amazon customer service representatives make US$10 an hour tostart, which workers say is not enough in the expensive Seattle region.
Honeymoon Over
"The past two years have been kind of a honeymoon for e-commerce," said Poh.Now, as e-commerce companies face pressures to show profits and keep theirbusinesses going, the "patina of glamor" associated with new-economy jobs is fading, Poh said.
Since the Collaborative Media workers began their organizing drive inOctober, four employees have lost their jobs, said the union, which filedunfair labor practice charges with the NLRB. Two lost their jobs after asick-out in October, and another two were fired after collecting signaturesfor the union vote, said Poh.
Management's "open-door policy obviously onlywent so far," Poh added.
Poh told the E-CommerceTimes that the Collaborative Media workers were trying to deal with management, but felt "as if they just weren't getting backing."
Poh also said the employees believe they are "working harder, faster, longer" without adequate job descriptions and corresponding pay scales.